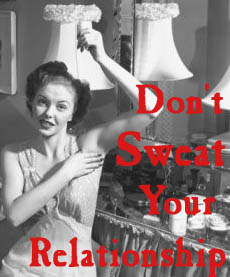 Are you sweating your relationship?
Is it toxic?
Is it suffocating?
Is it exhausting?
Is it annoying?
Is it upsetting your family &/or friends?
Is it boring?
Is it normal? (Hey, it happens!)
Are you sabotaging it yourself?
(Are you sabotaging it with all your insecurities about it?)
Or maybe it really is time for you to walk away from this thing.
Don't sweat your relationship! Don't fall into the (arm) pit of despair!
Read Relationship Under Arm Stick — it's like a protective layer between you & your relationship stink.
Now for the disclaimers…
Alessia is not a counselor or doctor; this blog is not pretending to be your therapist. These are opinions, like the 'advice' of a friend, and you should take the same actions you would as if Alessia were your friend — including, but not limited to, asking other friends & family their opinions and perhaps seeking the advice of a professional.
Alessia is opinionated, but like any good friend, waits to be asked a question — which is the 'you reading here' part of things.
Of course, you can also email your questions to Alessia at relationshipunderarmstick@gmail.com. Please note that while any & all emails may be shared here at Relationship Underarm Stink, Alessia will not share your name or in any way identify you (unless you wish it), so feel free to use a fake name &/or location — or one will be assigned to you.
Alessia doesn't mind if you ask questions, challenge her opinions, or even call her on her BS. That means comments are welcome — encouraged even!
To the extent that this remains a safe place, know that Alessia will not tolerate abusive comments, hate-filled speech, or anyone behaving like an asshat. Those comments will be deleted; statements which surpass bad taste (such as threats etc.) will be reported to the appropriate authorities.
You can also find Alessia:
* dishing about dating at Date1411.com
* talking about relationships at GadaboutMedia.com
* and dealing with the subjects of abuse, domestic violence, rape, safety and recovery at GadaboutHealth.com.
Yes, I do Twitter.  That's where I get a lot of my feedback.
Sticking It Back (Feedback)
ABartelby OMG I LOVE you! How the hell did you FIND me, anyway?
avflox Love your blog.
Brasspistol for some reason I don't believe you're here just for the page rank
mattjpearson UnderarmStick: a protective layer between you and the overpriced shipping of mail-order brides.
ShawneeRivers Stop doing that, Dt Coke burns when it comes thru the nose
SilentPornStar you did not just twitter "one-eyed love-sword" to thisguydoug – or anyone else LOL
SlipOfAGirl OMG Where were you when I was 20? Brilliant!
Soniamonia ooh thats so George Orwell Down and Out in Paris and London– LOVE it
TeddyShabba great article you wrote on New Years resolutions.
And because he loves me, I am now taping DamienBasile's photo up inside my locker.
Some people even double-dip with the stick:
abartelby *falls off of bed laughing ass off* That was brilliant, my dear. ;-P
ShawneeRivers Just like impulsive sex on bar floor; fun for the half-hour, it's a sticky mess afterwards, but no one was really hurt… :p
Soniamonia I am digging your blog and agreeing with EVERY LINE! :)