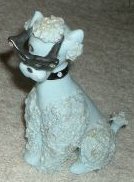 Deanna Dahlsad aka Pop Tart is an opinionated woman obsessed with objects, entertained by ephemera, intrigued by researching, fascinated with culture — and addicted to writing.
She has been featured in Collectors News and interviewed on The Ephemera Show. She's presented at the Association of Midwest Museums (AMM) and Mountain-Plains Museums Association (MPMA) Joint Annual Conference in 2008 (Museums & Web 2.0: Slaying Dragons or Titlting at Windmills? Blogs, YouTube, MySpace – Using Social Networks for Museums) and is a scheduled presenter at the Bookmark Collectors Virtual Convention (February 20 and 21, 2010).
Along with being a paid columnist at Collectors' Quest (columns and profile in the CQ Community), she recently founded Inherited Values, an antiques and vintage collectibles network that most definitely does not go by the book, and Ululating Undulating Ungulate, a site that hopes to sell you artworks by celebrating art and exploring creativity.
Most of the time, she feels her objects are cooler than she is. Aside from appearing all over the Internets, items from her collection appear in such places as the Virtue, Vice, and Contraband: A History of Contraception in America exhibit at the Dittrick Medical History Center and Museum (at Case Western Reserve University) and at The Hingham Shipyard Historical Exhibit.
That's the tip of the iceberg; you can find out more about at her freelance writing and Internet consultant services site, read more at her Google Profile, and find additional links to "her" in the sidebar. Feel free to find/follow her at Twitter and at Facebook. Her email is Deanna.Pop.Tart@gmail.com.