Curtis Howe Springer was a self-proclaimed medical doctor and Methodist minister, though he was licensed for neither.
A popular radio evangelist, Curtis Springer eventually "created" space in California's Mojave Desert dubbing his settlement, the "spa," and the ensuing miracle cure products "Zzyzx" (pronounced, according to his products, "zi-zix") as a gimmick to ensure that the brand would be "the last word" in health.
He called himself "the last of the old-time medicine men"- the American Medical Association called him "the King of Quacks" in 1969.
A few years later, he & his cult-like followers would be called out for squatting – swapping Federal lands for government prison.
Sharing this because I have a fascination for medical quackery… And I've just listed an empty can of Zzyzx for a friend on eBay – and all this research can-not go to waste!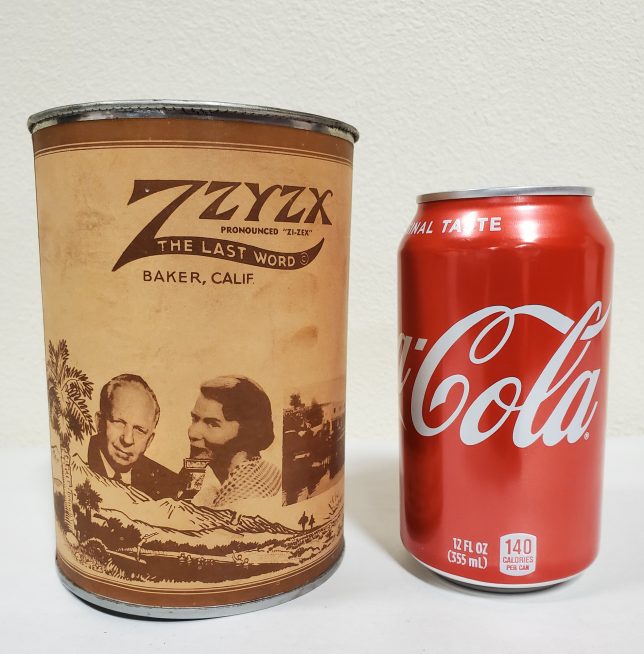 For posterity, B-Plus was a "scientific blend" of "delicious basic foods in a dry or dehydrated form." Which, according to the can's wrapper was "the bulk equivalent of 1,000 Ten Grain tablets." This is important, because the Springers believed "certain values" were "lost in the compression of tablets."
Can features a number of graphics, including images of Curtis & his second wife, Helen, and the Zzyzx Mineral Springs and Health Resort.

This old advertising tin of medical quackery stands approximately 5 1/2 inches tall, 4 inches in diameter.

A "Helen Springer Product, Basic Food Products, Baker, California."

More info at Atlas Obscura & Wiki.