When Jord came to me with the offer to review one of their handmade wooden wristwatches, I took one look at them and I knew that the Koa & Black, from the Dover Series, was special. While the idea of a wooden wristwatch is certainly a novel one, it was the gears that moved me… Usually all glorious gears and stuff that makes a watch tick is usually hidden on a watch. But with this Jord watch, you can see it work!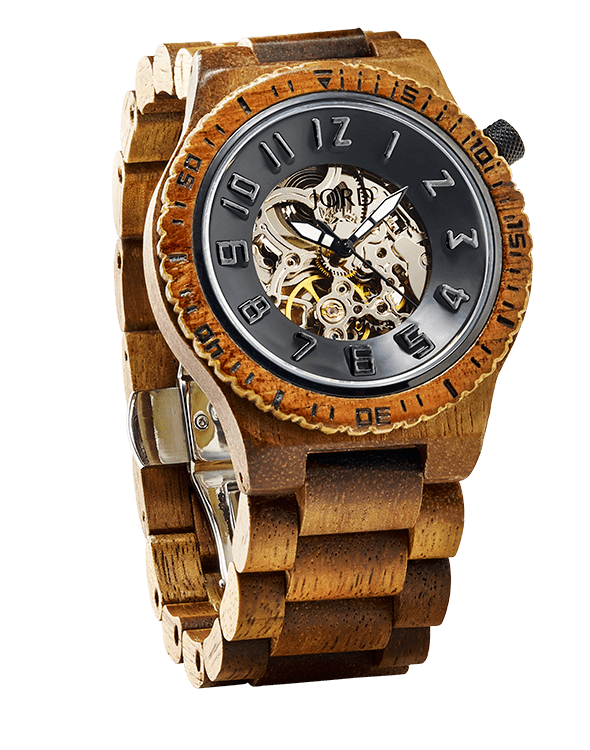 I knew it would be perfect for my dad. He's not only one who appreciates craftsmanship but is a craftsman himself. Not only does he make new things, mixing the old with the new, but he's handcrafted furniture for the house. I just knew he would love the juxtaposition of the smooth wood next to the metal gears as much as I do. (Admittedly, my dad often prefers his gears rusty; but then the timepiece wouldn't work!)
Just as I'd hoped, my dad did love the watch too.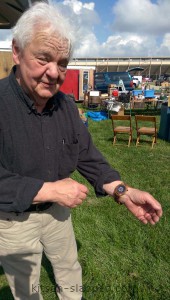 Since one of the relatively important aspects of a wristwatch is the personal statement it makes, the attention it receives, I asked my dad to wear it when we were selling at the opening weekend of the Elkhorn Antique Flea Market. (Just like hubby and I, my parents are antique dealers.) I just knew the wooden watch would garner the attention of those who appreciate quality timepieces, as well as those who admire craftsmanship — and just plain like cool stuff. In spite of the bad weather, which required us to cover ourselves (and our antiques!) up more, when the watch was visible it received a fair amount of admirers.
But perhaps the most telling compliment came from my nephew, Nicholas, who is the youngest of the grandchildren. Because my dad has made so many things, Nicholas asked if Papa made the watch!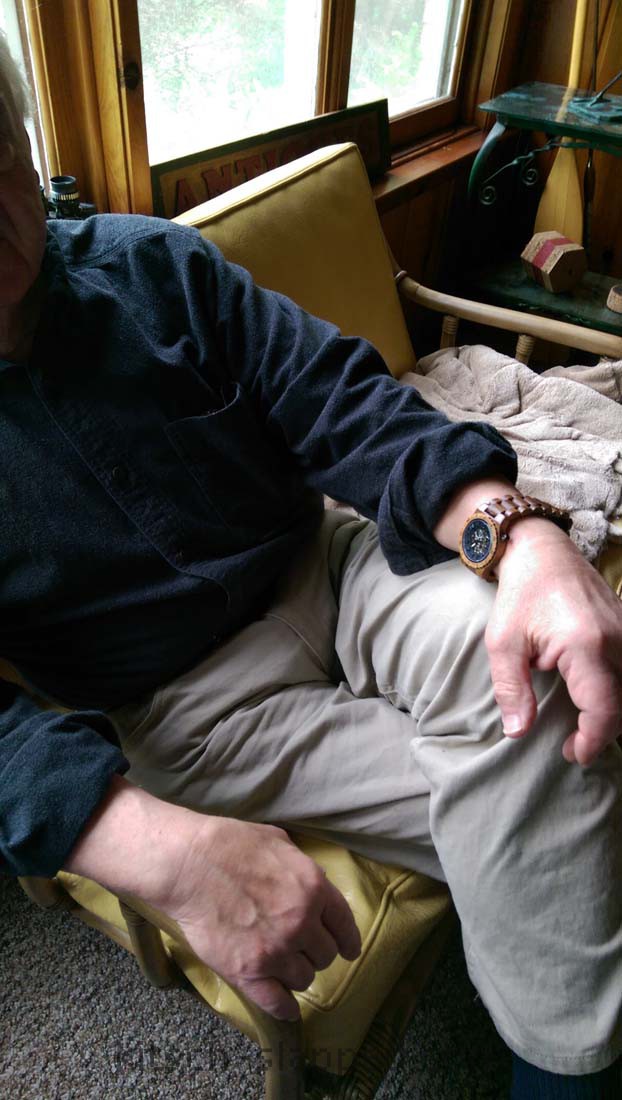 For many younger folks, wearing a wristwatch seems unnecessary if not antiquated. But hold on; if you think that our tech gadgets have replaced the "antiquated wrist watch" and clocks in general, I have news for you. It comes via some of my dad's knowledge too…
You might have noticed in the photos that my dad wears his wristwatch in an usual manner…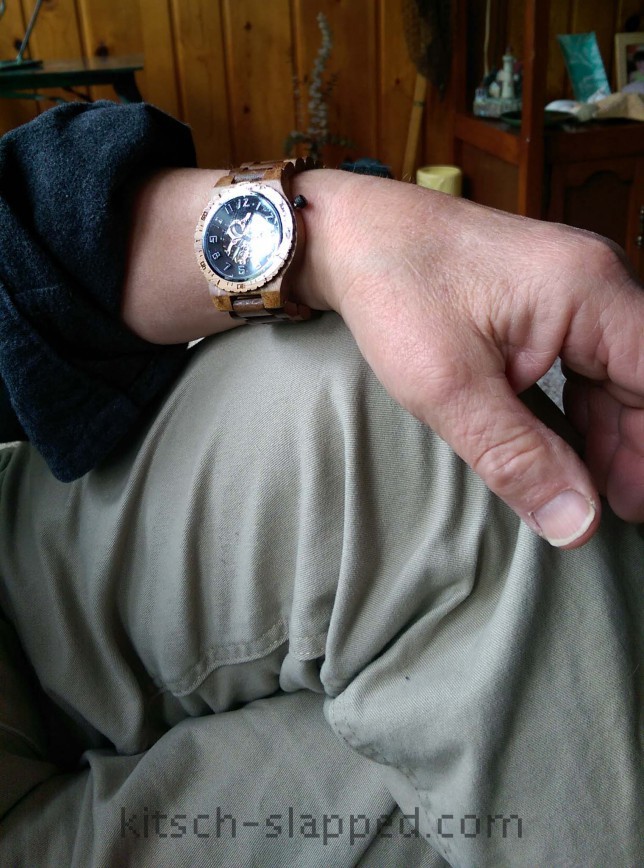 With the face of the watch not centered on the wrist, but rather sitting along the side of his wrist (on the radius, if you want to be technical about it). For as long as I can remember, my dad has worn his watch this way. And there's a reason for it.
For decades, my dad worked as a salesman selling tools to big companies in what is now known as the Rust Belt. Often in sales meetings, or any meetings at all, there might be a reason the you might want to make note of the time. But being spotted checking your watch communicates all sorts of negative things. While you might merely be wondering if you're running on time for your next appointment, the client may see your peek at your watch as an indication that they are being rushed — or worse, that they are boring you. What to do?
One of my dad's first bosses taught my dad a trick: Wear your wristwatch as shown so that you can take a look at the time without the person across the desk from you ever noticing.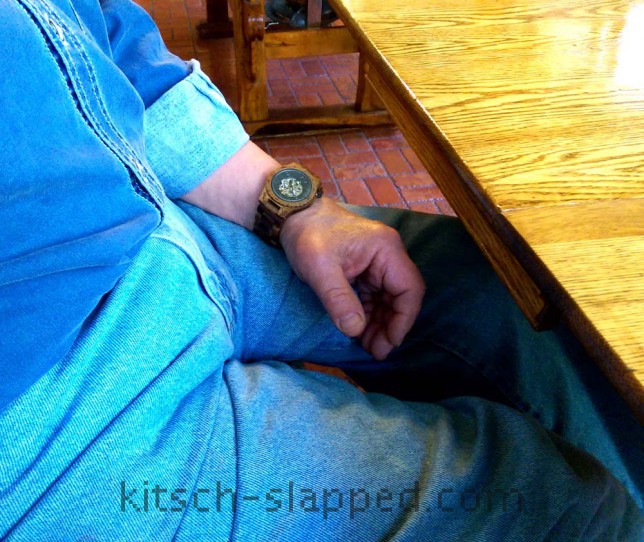 Wearing the watch as my dad does allows for a surreptitious look at the time without offending anyone you are trying to impress — be it a buyer or an interviewer.
Honestly, it works without a desk or conference table too.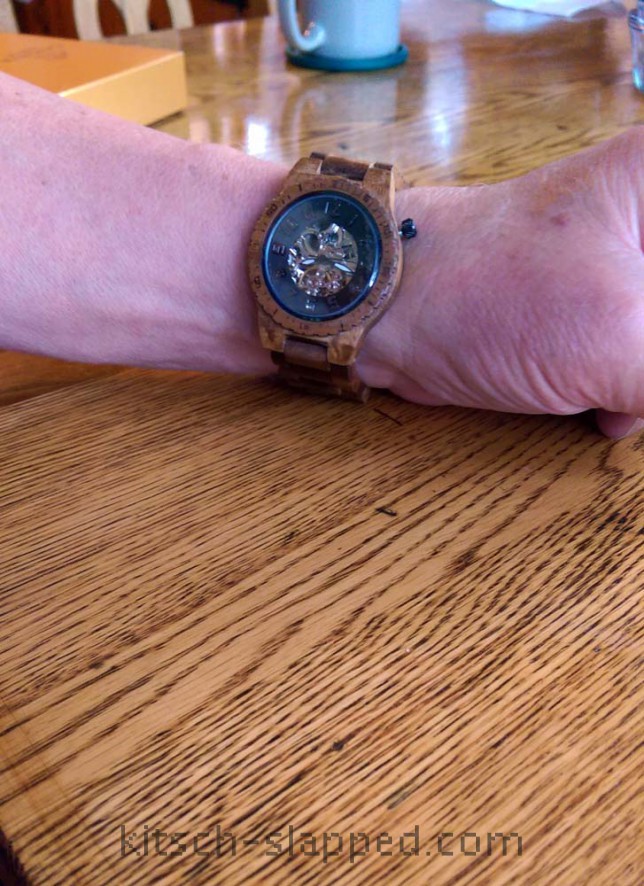 I'm not sure wearing a watch this way would have helped Ben Carson, or even President George H. W. Bush in '92; but it certainly can help most of us. Take heed, graduates and others going on job interviews!
(I dare suggest that many of the young people rejecting wristwatches are not employed. They don't yet know the value of being able to reflect your personal style at work — or how important it can be to steal an unnoticed look at the time. Meanwhile, as many younger folks seem to be eschewing watches and clocks, the prices for vintage and collectible timepieces have been soaring. Perhaps it takes a matter of experience to appreciate not just "old" stuff, but the value of timepieces as well.)
But back to the stunning Jord watch…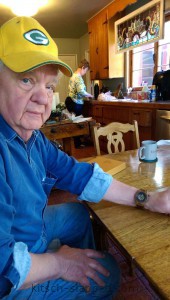 It's at once rustic and elegant, combining earthy and tech to make a functional timepiece that's unique. The wood also works nice with less formal attire, including Casual Friday, hanging out with friends — and, as it must do for any Wisconsinite, looks great with Green Bay Packer gear!
It arrived as expected for a pricey luxury wristwatch, in a nice wooden crate of a box, with all the related info inside. The only bad thing I can find to say about this watch was that the information card included in the box was difficult to read: black text on a busy image-laden background — and slick & shiny with lamination yet. Even for the younger among us with better eyesight. I can understand wanting a "sexy" card. And giving it a protective coating so it can last. But, honestly, the company would be better off going with black text on a white or light background so that it is easy to read.
That said, we obviously figured out how to work it. And, yes, this beauty works. In fact, with the visible gears, this wristwatch is really cool to watch. If you aren't a fan of the gears, there are other styles as well — and, yes, there are women's watches as well.
Official review disclaimer: While I did receive the wristwatch from Jord for review purposes, it did not sway my opinion in any way. It never does.