Doing some research for doll articles, I ran into this bit from the December 18, 1950 issue of Broadcasting Telecasting about a one hour, Chevrolet sponsored, CBS radio & TV program in which radio reporters from "all over the world" would discuss and present the issues.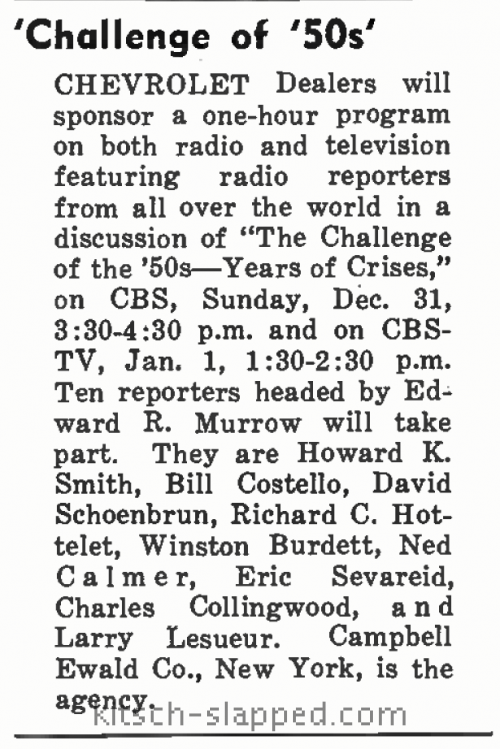 The program was The Challenge Of The 50s — Years Of Crises, headed by Edward R. Murrow. The other 10 reporters were Howard K. Smith, Bill Costello, David Schoenrun, Richard C. Hottelet, Winston Burdette, Ned Calmer, Eric Sevareid, Charles Collingwood, and Larry Lesueur. (With names like that, one questions the accuracy of "reporters from all over the world." Rather than imply international reporters, it should have been stated that the show was with "reporters stationed all over the world.") These reporters would become known as Murrow's Boys and the show would go on to be an annual program, best know as Years of Crisis.
For those of you who prefer to think of the 1950s as an idyllic time, one to romance over, there were issues and crises. In fact, one of them was regarding journalism itself, as the film Good Night, and Good Luck covered. This topic is illustrated clearly, if meekly, in the very same issue of Broadcasting Telecasting
with mentions of Drew Pearson's being attacked by McCarthy and discussions of media censorship. You can click to read larger versions of the articles as needed.