Have you seen Subway's latest ad ~ the one with the woman who reminds us to "Eat Fresh!" and stay healthy & slim so we can fit into our sexy Halloween costumes?
http://youtu.be/y4lMFiV1sec
Jezebel did. And out came the requisite rant. (Have I mentioned I'm getting tired of that?) Of course others had their rants too.
But come on now, let's face reality. Aren't all the Halloween costumes for women sexy now? The fact that Subway knows they are shouldn't really be a surprise. Because just who hasn't noticed this? There's a name for it: Slutoween. And, right or wrong, there's a history behind it. (And, in fact, Hallowe'en began as a holiday for rowdy, bawdy adults, not children.) Whether or not you want to don such sexy apparel is up to you; but stop denying that they are popular. Guess what, $1.4 billion will be spent on adult Halloween costumes. The free-market has dictated that sexy does sell when it comes to Halloween costumes.
With so much money being spent on the costumes, is it any wonder Subway would latch onto our vain desire to look better in those costumes? If our cultural definition of "better looking" is thin (or at least "thinner"), it makes dollars and cents to pull that marketing string. And if you want to cry out in body image outrage (apparently not seeing the shirtless man in the Viking costume at the table, as well as the humor of the commercial itself), go ahead. I'll cynically counter with the point that Subway also wants us to be alive next year ~ if only to be customers. Having a business that's all about eating healthier really is a great business model; it really does cost more to acquire new customers than to retain existing customers, you know.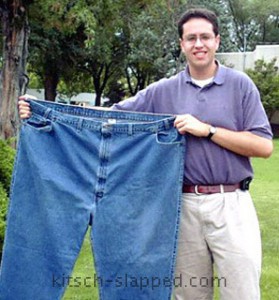 Anyway, I think the negative response to this Subway commercial is itself sexist.
Where were the complaints about men having to slim down so they didn't have to wear those huge pants?
The collective "we" saw that as a healthy move. There was no out-cry then.
But a woman wants to be sexy? A woman who dares to admit she wants to be sexy?
Oh hell no! We simply can't have any of that!
Meanwhile, Natalie Mitchell, the actress in the ad who models all the sexy costumes (complete with "Foxy Fullback"), is keeping mum until this latest, mainly feminist, frenzy passes. Keep an eye on her Tumblr page for comment.