This lithograph of Nude, Sleeping by Wolf Kahn was part of The Vincent Price Collection.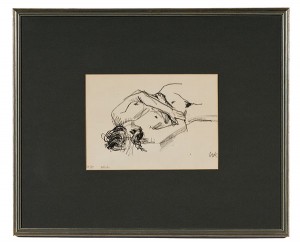 No, it's not like Vincent Price himself owned the nude — but is his selection of the art for a collection to sell at Sears any less creepy?
Yes, you read that right; Vincent Price, the famed B-film master of kitschy horror was selected to head a retail art sales program for Sears.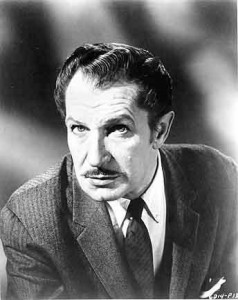 While we all remember him for his ghoulish yet flamboyant film personae, Price was a Hollywood film star in the 60s when George Struthers, Sears's vice president of merchandising, came calling — but Price lent more than star-power cache to Sears. Price had been a student at the Courtauld Institute of Art intending to become an art historian when the stage came calling, and while he became one of Hollywood's biggest stars he was also known world-wide as a passionate art collector, a former art gallery owner, and, having spent a dozen years studying art at Yale and the University of London, an art lecturer.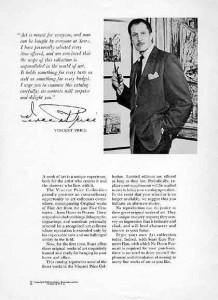 The art sold wasn't cheap reproductions — in fact, they weren't reproductions at all, but original works of art. And Price was no simple pitch-man; he searched throughout the world for fine art for Sears and had the authority to acquire any works he considered worthy, buying single works, whole collections, and commissioning artists, like Salvador Dali, to create works specifically for The Vincent Price Collection at Sears. It's clear that as an art lover, Price cared about the collection.
You can — and should! — watch this kitsch-tacular instructional film from the 1960s, in which Vincent Price guides Sears Roebuck employees through the art he's selected for sale in this collection.
The collection had works by artists like Rembrandt, Chagall, Whistler, Picasso and Reginald Pollack.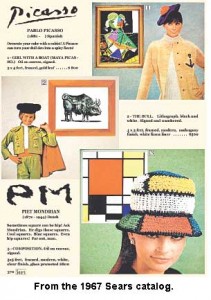 But not all were the big names in Art with a capital 'A' as they are today. And that's sort of the point of all of this.
Sears-Roebuck had already established a history in selling art; they'd been selling art as early as 1895. But as America entered the 1960's, the do-it-yourself hobby mentality clashed with this new-fangled art movement called Modern Art. Of the art buying public (i.e. older folks with money to invest), few understood Modern Art; some never accepted it. But most all were intimidated by it… What would be a good investment or at least not be an embarrassing purchase?
Americans who were interested in art had several problems: Knowing what to buy, knowing who to trust to buy it from, and access to purchasing it.
Vincent Price's role was that of popular art expert; and Sears was the trusted retail outlet you could trust, who brought art to locations throughout America — and at prices folks could afford.
Did it work? You bet! According to Sears, artworks ranged in price from $10 to $3,000 (and customers could also purchase items on an installment plan for as little as $5 down and $5 a month), and that between 1962 when the collection began and its end in 1971, Sears & Price moved over 50,000 pieces of fine art through about a dozen physical locations and Sears catalogs.
Vincent Price's personal art collection was donated to East Los Angeles College's Vincent Price Art Museum (VPAM).
The nude art work is part of the American and European Paintings Auction, March 12, 2009 at Cowan's Auctions.