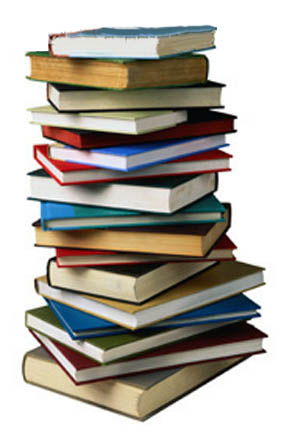 So you've decided to get rid of your books… Sometimes it's just a matter of making some empty space on the bookshelves; sometimes you want to fill the empty space in your wallet or checking account. If you are realistic, you can achieve a bit of both at the same time — if you aren't on some sort of quick deadline.
The first thing to decide or know is your goal.
Are you trying to make money? Is the money just to be used to support your reading habit (to buy more books) or to become a bookseller (and make a full or part-time income)? Are you just trying de-clutter your living space? Do you need to divest yourself of your books in a short time-frame?
In a hurry?
If time is a constraint, say you need to get rid of a lot of books before you move in a few weeks, there's always your local used bookstore. They may not pay you much for the books, but, if they take all your books, you will get your space back.
You can also donate used books. Along with thrift stores, there are many other places to donate books, many of which will allow you to take a tax deduction for them. Hospitals, women's and children's shelters, nursing homes, groups that work with the homeless — many charities take books. Prisons even take books. Generally speaking, anything with "adult" themes (i.e. erotic fiction, and, sadly, in many cases, books on human sexuality) should be pruned from your collection prior to donation.
If you have the time and transportation, you can do a combination: take your boxes into the used bookstores, have them pick what they want to pay for, and then donate the remainders.
Not in a hurry or just a reader with a few books to get rid of?
Readers may be more interested in swapping books. There may be local groups in your area; you can check sites like FreeCycle to find them. And you can also use online sites such as BookMooch, PaperbackSwap, and even BookCrossing.
So you've decided to sell your books…
Next, you have to decide what kind of books you have (simply used books or more valuable works) and then determine which is the best place to put them in front of the appropriate bibliophiles (readers, collectors) — while keeping in mind how quickly you need them to sell.
Some sites, like eBay, which offer the auction format, are designed to have quicker sales. Other sites, like Amazon, Abe, Etsy, and eBay stores, allow books to be listed for longer time periods. Some sites, like Abe and Alibris, are known for specializing in books.
Along with online marketplaces, there's also creating your own site. PayPal buttons offer easy purchasing. Blogging software, like WordPress, now offers ecommerce plugins. These options require you to drive your own traffic to get sales; but the rewards can be greater in terms of control and profits.
Are your books worth anything?
That depends.
When it comes to the sale of anything, the value the item has is determined by the marketplace. Simply put, the buyer buys at the price he wants to pay; a wise seller knows what is fair to ask. Three general rules on book values are:
1) The newer and more popular a book is, the less value it has. Just try to make money of a mass market Twilight paperback; they are everywhere and have little value right now.
2) Older books value lies in having a popular interest (a larger number of people looking to buy it) and in being rare. Yesteryear's Twilight sensations may still have no value because so many copies were printed and sold — and still can be found. But, with vampires, horror, and the occult still being a popular interest, older books in these areas may be worth quite a bit, providing the book is still a good story and/or is a rare find.
3) Condition is always an issue. The less legible, intact, or as originally issued (dustjackets, etc.), the less value the book has.
It's important to research your books in terms of prices as well. Using BookFinder can help you find an idea of what a book may be worth. I say "may be worth" because you're going to get not only a wide array of varying book conditions (which will affect price) but the prices you'll see listed are asking prices. Who knows how long those books will sit there for sale at those prices, if they will even sell? FadedGiant helps book sellers by providing a database of prices realized (prices sold for) in antique, vintage, and collectible books. It's important to note that the FadedGiant service is limited. It does not have every old book in the database. Their sold listings will not tell you anything about the condition of the books. And any prices realized will be but a snapshot of what the books was worth at that time. But FadedGiant and BookFinder are great ways for the novice to get an idea of price range; what titles, authors, and attributes are most desirable; and where different sorts of books are being sold. Many professional booksellers use a combination of sales outlets, real world and online, to maximize profits selling their books.
Multiply this work by the number of titles you have, and you can see how the time adds up!
What costs are there?
Seller fees. Each online sales marketplace has a fee structure. There are fees for listing items, fees for when items sell, and sites like PayPal, merchant accounts, etc. have fees for handling the sales transactions. Depending upon which sales platform(s) you use, you'll have a mix of these costs. Knowing them upfront means you can more accurately set your book prices so that you profit from the sale after fees are taken out or paid.
Shipping costs. Shipping costs include boxes and mailers, packing tape, shipping labels (the ink and paper you print them on), and other items for packaging. There's also fees for shipping insurance and tracking options which many sellers must use to protect themselves during sales transactions. If you don't properly calculate and charge for those shipping costs, it can really eat at any profits you may have.
So can the time it takes to ship items. A lot of sites won't let you add-on a handling fee to your sale, but let me tell you, if you list a lot of books it can take hours from your week or even your day to pack and ship the books you sell.
Additional time factor costs. Along with the time invested in research, there's time listing your item. You'll want to not only to give all the usual information (title, author, publication date, etc.), but you'll want to mention any interesting features (is it illustrated, signed by the author, a first edition, etc.) and you'll need to describe the book's condition (is it written in, is the binding sound, etc.). Per the site's rules, you may need to photograph or scan at least the cover. Sometimes, when you list an item online you'll have a lot of questions to respond to from potential buyers or interested bidders. And then there's the time spent organizing your books for sale. (You have to be able to find a title quickly to answer questions and to ship it.) This time can add up surprisingly fast.
If, after all this, you find you are only getting a dollar or something for your book, it may not be worth your time to sell books online.
What else do I need to know?
Seller feedback and rating systems. When you are new to selling online, it takes awhile and to build feedback ratings. Generally speaking, the more valuable the books you have to offer, the more important the feedback etc. is going to be to potential buyers. Often, a new seller will start out selling some of their items at lower prices just to start earning good ratings from buyers. It can also help to be a buyer at the site as well, as that will help build positive feedback for you as a member.
Promotions. Most successful sellers online now promote their listings, stores, and websites via blogs, social media, etc. Traffic online is like traffic in a store; the more people who stop by to see what you have, the more likely you are to have sales. But learning how to effectively market yourself and promote your goods online is a whole other set of skills — and, for many, another learning curve.
Other options:
If you don't feel you have the feedback (or the time to generate the feedback), if you feel this is too much to learn, or if selling your books is just a one-time event you don't feel is worthy of investing so much time in, there are other options.
There are people and companies willing to sell for you, such as eBay consignment shops. And there are dealers and others who may buy books directly from you.
You can post your offerings on places like Craigslist; walk your books into antique shops, used book stores, etc.; or sell to book dealers and those who manage estate sales. If you have a large number of books to sell, and they are not overly rare or otherwise valuable, this most likely will mean selling to local dealers in your area. But there are dealers, estate agents, and even auction houses which will make long-distance deals as well, provided your books are worth either party paying for the shipping costs.
Remember, dealers, used bookstores, antique shops, and the like are only going to pay you wholesale prices for your books. "Wholesale" means at a lower price than what the books will eventually sell or retail for to buyers and collectors. That means you will not get the top dollar from book dealers and other such folks. That's only fair; look at all the work they are doing to get it! Plus, you'll have cash in hand, while they will be waiting for the books to sell to get their share.