In celebration of what is looking more & more like (knock wood) Al Franken's seat filling the Senate seat and the recent publication of Ohio State University's study on satire (The Irony of Satire: Political Ideology and the Motivation to See What You Want to See in The Colbert Report, April edition of the International Journal of Press/Politics), I'm reposting something I wrote 11 months ago… Because, as you'll see, it's more ironic to reread this than to rewrite it.
First republicans were actually using comedian Steven Colbert's satirical works to push their agendas, and now ABC reports that the Minnesota Republican Party's released a letter, signed by a whopping six GOP women, attacking comedian Al Franken who was then running for United States Senate in Minnesota:
Eight years ago, Franken penned a column for Playboy called "Porn-O-Rama!" in which the former Saturday Night Live comedian wrote about visiting a made-up sex institute where he takes part in sexual acts with humans and machines.

"While you may attempt to defend your writing as satire, we hardly find anything defensible about your finding humor in your desire to have sex with women or robots that look like women simply to give yourself a good time," the Minnesota GOP women wrote in the letter. "This column is at its worst, an extreme example of the kind of disrespect for the role of women in society that all of us have fought our entire lives. At best, it is the disrespectful writings of a nearly 50-year-old man who seems to think that women's bodies are the domain of a man who just wants to have a good time."

"Denounce this article and apologize immediately," read the letter.
Sheesh. And they say feminists have no sense of humor…
Perhaps too many republicans suffer from frontotemporal dementia and therefore cannot process sarcasm. (It's funny because it's true.)
Meanwhile, for those suffering from a poor sense of humor, an dementia-induced inability to recognize sarcasm, or a fundamental ignorance of humor ~ including satire ~ and its historical use as social protest, the Franken camp's response (via ABC) should help clarify things a bit:
The Franken campaign said the Playboy column was written as a satire.

"Al had a long career as a satirist," said Jess McIntosh of the Franken campaign. "But he understands the difference between what you say as a satirist and what you do as a senator. And as a senator, Norm Coleman has disrespected the people of Minnesota by putting the Exxons and Halliburtons ahead of working families. And there's nothing funny about that."
You don't have to be an Al Franken fan (though I am) to love the "he understands the difference between what you say as a satirist and what you do as a senator".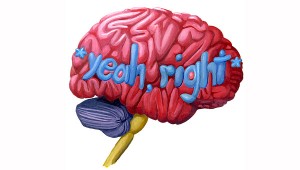 Maybe a little remedial reading, via the links here, would help those six GOP ladies… Or lobotomies. Hey, Dr. Katherine P. Rankin, do they do parahippocampal gyrus lobotomies for the sarcasm impaired?
Related: In the New York Times article on sarcasm, Dr. Rankin is quoted as saying, "I bet Jon Stewart has a huge right frontal lobe; that's where the sense of humor is detected on M.R.I."
And now you know how to spot all the smart funny people (who are happy to see you). Bet there are few bulging lobes in today's republican party.
Then again, they are rarely happy to see me.