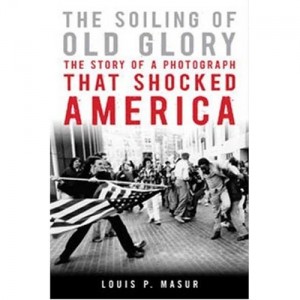 At Collectors' Quest I just reviewed Louis P. Masur's The Soiling of Old Glory: The Story of a Photograph That Shocked America — a book I can't recommend highly enough.
While the book is based on a very famous photograph, the Pulitzer Prize–winning photograph by Stanley Forman, taken on April 5, 1976 at a Boston rally against forced school busing, I'd never heard of or seen the photo before.
I don't know why.
I was 12 years old at that time and I remember vividly Watergate, Viet Nam, etc.; so I obviously absorbed news. And I've always been interested in, sensitive to, and emotional regarding matters of race — something I've since put down not only to a combination of being human, being female (and so recognizing oppression), and "white guilt," but as spiritual residue from being born on June 21, 1964, the date of James Chaney, Andrew Goodman, and Michael Schwerner were murdered (something I never knew until I was about 25 and rented Mississippi Burning). Plus, I've been a very avid student of history. So just how the incident & photograph escaped my knowledge is a mystery to me…
But once I found Masur's book, my ignorance left.
And not just my ignorance regarding this (and other) incidents of relatively recent racism in this country (and in "the liberal north" yet!), but about photography, art, symbolism… And this country's flag.
I had no idea that someone from my home-state of Wisconsin was so influential in the creation of National Flag Day, or that the Milwaukee Daughters of the American Revolution played a role in early anti flag desecration legislation. In fact, I had no idea that there was such concern over flag desecration as early as the late 1800's. But what really rocked my cynical world was the reasoning behind it. Masur wrote (pages 98-99):
Even as the flag came to be venerated in the late nineteenth and early twentieth centuries, it became subject to another kind of treatment: desecration. Of course, it makes perfect sense that the two might emerge side by side, an object worshipped and reviled, an icon and a target. Reports and pamphlets in support of legislation against federal flag desecration began to appear, primarily in response not to overt acts of destruction but to the commercial use of the image of the flag. Arguing that "old glory is too sacred a symbol to be misused by any party, creed, or faction," one writer included a list of objects on which "old glory… is treated with grave disrespect or used for mercenary purposes." The items ranged from pocket handkerchiefs and doormats to lemon wrappers and whiskey bottles. In 1890, the House Judiciary Committee recommended passage of a law that made it a misdemeanor to "use the national flag, either by printing, painting, or affixing said flag, or otherwise attaching to the same any advertisement for public display, or private gain."
What strikes me so odd — not that it should, I suppose — is that folks were so upset by the commercialization of the U.S. flag.
What on earth would they think of today's patriotism? Of our current state of ridicule of anyone not wearing or displaying, on person or product, an American flag?
That sound you hear is the thud of fainting conservatives from the late nineteenth and early twentieth centuries. Or maybe it is the screams of horror from the same.
Once I wrapped my mind around such societal flip-flop, I then was left to revisit my own memories of the flag. A flag I'd seen on so many things… And that was before 9/11.
Heck, walk down any major isle at oh-holy-Wal*Mart this week, and try not to find something with the U.S. flag printed on it — tank tops with the flag & little white puppies, disposable plates with flags on them, socks with flags & fireworks, seat cushions… Endless. And all made to be profited from.
Was the Bicentennial responsible for this?
Back then (and I don't mean just 1976, but the years surrounding it too) we had our school pictures taken with flag backgrounds, ate off flag forks, plastered cafeterias with flag-printed crepe paper & balloons, even applied flag printed toilet paper to clean our dirty butts. It was as bad as Masur notes, and, as he quotes, by then at least one member of the Sons of the American Revolution was OK with such kitsch: "I see no harm in these Bicentennial products. There is no harm in making a buck."
But while the Bicentennial was the height of flag kitsch, I had some memories of flag use and "abuse" before then…
Again from Masur (page 107):
The meaning of America and the meaning of the flag went together. As the counterculture of the late 1950s and the 1960s came into prominence, attempts to redefine America often meant desacralizing the flag by wearing it. The cultural rebellion of the 1960s necessarily implicated the flag. [Allen] Ginsberg came to sport a top hat with the American flag motif. In discussing Ken Kesey, the Merry Pranksters, and the drug culture of the 1960s, Ginsberg argued that "they didn't reject the American flag but instead washed it and took it back from the neoconservatives and right wingers and war hawks who were wrapping themselves in the flag, so Kesey painted the flag on his sneakers and had a little flag in his teeth filling."
This was as I recalled from my television set. The protest film footage, the body paint on Goldie Hawn & Judy Carne on Laugh-In (and if the girls hadn't actually worn flags painted on their bodies, well, I said it was as I recalled it…) It may not all have been as commercial as the Bicentennial kitsch was; but it was there, making it's own statement, whether you dug it or not.
In the end, I agree with Supreme Court Justice Robert H. Jackson who, ruling on West Virginia State Board of Education v. Barnette in 1943, said:
To believe that patriotism will not flourish if patriotic ceremonies are voluntary and spontaneous instead of a compulsory routine is to make an unflattering estimate of the appeal of our institutions to free minds. We can have intellectual individualism and the rich cultural diversities that we owe to exceptional minds only at the price of occasional eccentricity and abnormal attitudes. When they are so harmless to others or to the state as those we deal with here, the price is not too great. But freedom to differ is not limited to things that do not matter much. That would be a mere shadow of freedom. The test of its substance is the right to differ as to things that touch the heart of the existing order."
I don't for a moment consider the use of the flag as a weapon to be anything other than criminal; that's not my intent in any way. While the photo and exploration of the cult of flag connect in Masur's book (they have to; the flag as symbol must be discussed), that's not his point either. But what you have to see is a time, not long ago, when many felt the flag, like the country, didn't represent them any more.
Here Masur repeats a quote Kenneth Clark published in Dark Ghetto:
The flag here in America is for the white man. The blue is for justice; the fifty white stars you see in the blue are for the fifty white states; and the white you see in it is the White House. It represents white folks. The red in it is the white man's blood — he doesn't even respect your blood, that's why he will lynch you, hang you, barbecue you, and fry you.
There are many times I feel that way. Not just in theory. Not just as continuing amateur historian. But as a woman living her life here as a second class citizen. Without equal pay. Without the same recourse & credibility when she stands to seek justice. Without recognized rights to her own body. And with far greater (& societal accepted) risk of violence & sexual assault.
Why isn't my gender's blood part of the red on the flag?
I feel a reclamation-of-the-flag art project coming on.
Happy Fourth of July.