With headlines and articles screaming clever puns, such as "fashion kills," "I would not be caught dead in that," "dressed to kill," and "Bloody mess as Barneys kills display," first Racked (from which the photographic evidence comes) and then Daily News (which didn't even bother to link to Racked — though they did credit them), reported on the grotesque window displays at Barneys.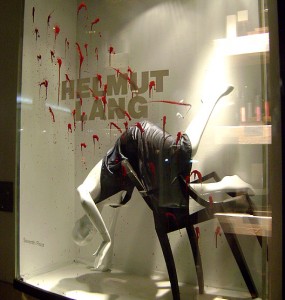 Two mannequins, each wearing a dress (from Helmut Lang and A.L.C., respectively), are caught in the acts of failing to protect themselves from some sort of attach — with their "blood" splattered & sprayed along the glass like, oh, I don't know, festive holiday garland.
The reaction by Cynthia Drescher at Racked:
The flailing poses allow for drapey dresses to really strut their stuff, the shocking "blood" splatter immediately attracts your eye, and if you're bored and morbid enough, the windows can launch you into thoughts of outfits in which you would like to be caught dead. It's a shame it can't be expanded upon; it would be a bit too much for the Madison Avenue pedestrians.
I suppose that's supposed to be clever, witty & urbane; but it's disgusting.
It's a shame that Drescher can't expand upon the issue past mocking Madison Avenue and realize why being "curiously in love with the idea" might prove that she is in fact a danger of herself & other women.  If not actually bereft of a soul.
This was not an art exhibit, designed to make one think; this was advertising, merchandising made to move product & at the grossly figurative expense of their target consumer yet. (And no, Barneys, the word "target" does not mean you can take aim at us with weapons.)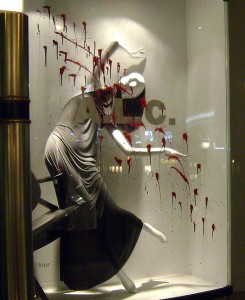 According to Daily News, the displays have been removed:
Simon Doonan, creative director of Barneys, said the displays were installed while he was away overseeing advertising shoots and that he had ordered them dismantled.

They were taken down shortly after the Daily News called to inquire about them yesterday afternoon.

"We encourage our display people to be creative. We give them a lot of latitude, but this clearly crossed the line," he said. "It's as if someone saw a bad Hitchcock movie."
Glad you brought up Hitchcock, Doonan. First of all, I don't think the man ever made a bad movie; second, I believe you were thinking of Psycho — and isn't it ironic that you'd think of an insane man with which a propensity for violence towards women… Too bad the "display people" whose "creativity" you encourage never saw those parallels. Nor any other Barneys employee who saw or knew of the window & did nothing until media called.
Talk about bad taste, Barneys; you need a personality shopper — someone to tell you Right from Wrong. Using bloody attacks on faceless female mannequins to sell women designer clothes is abhorrent.
The Daily News article continues:
"I think it's not offensive. It's artistic," said Mac Baicu, 16, a student from Queens.
No need to ask Mr. Baicu how many hours of first-person shooter video games he plays. And I don't want to even think about how he treats his girlfriend.
"I don't see it as that. I don't see any weapon or anything," said Joyce Sanders, 55, of Harlem. "And I would know; I watch a lot of 'CSI.'"

Asked if the display would entice her to buy the dress, she answered, "If I had the money, I would."
Um, if you really watched a lot of CSI, wouldn't you know that sometimes the weapon isn't left behind?
Hey, Sanders, wonder why Barneys doesn't pay for product placement on CSI?  'Cuz violence towards women is not supposed to be either in fashion nor the fashion.
But honestly, if you dig your fashions with blood spray & violence, have I got a tip for you: shop police auctions & battered women's shelters. It's really cheap. Unless you count the price of your soul — and the price of safety in general for women.