To celebrate National Romance Week, Princess Cruises has joined with Cruise Critic to conduct a search for real-life love stories that have taken place on the decks of Princess ships. Jan Swartz, Princess' executive vice president, says:
Over the years, we've heard many romantic stories from our passengers – everything from meeting their future spouse onboard a Princess ship to unexpectedly reconnecting with someone with whom they develop a new relationship – and so we're launching a search to find as many of these heartwarming stories as possible.
So why would you confess such things as bumping into an old flame & rekindling a romance aboard a cruise ship, or, a la The Love Boat, hooking up with the ship's doctor — let alone have them published on the Princess website?
Well, Princess Cruises says it's for the love of romance — and the prize. (The winner will receive a seven-day Princess cruise to the Caribbean, including airfare.) But I think it's the opportunity to have Captain Stubing judge your love exploits at sea.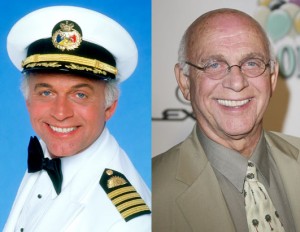 That's right, one of the judges of this contest is "Princess' well-known ambassador and member of the line's 'Department of Romance'," Gavin MacLeod.
MacLeod and Cruise Critic editor-in-chief Carolyn Spencer Brown will pick their five favorite stories from among those submitted, and then the Cruise Critic community will then vote on the top five to determine the most romantic story. Entries will be taken until August 28, 2009; the most romantic story will be announced on September 28, 2009.
I'd like to win a free cruise — who wouldn't? But I'd really like to impress Captain Stubing. (Maybe enough, along with all the other stories, to reignite a campaign to bring back Love Boat; oh, the many happy nights of watching, giggling, dreaming about Isaac, "My Bartender.") At least that's why I would enter — if I'd ever been on a cruise, let alone a Princess Cruise. Donations accepted.