Let's see… When this Kid Stuff Records book (copyright 1980) & record (copyright 1981) set of Strawberry Shortcake's Day in the Country came out, I would have been 16 or so, which naturally explains why I never owned any Strawberry Shortcake stuff back in her heyday. Why the stuff seems to gravitate towards me in some sort of kitschy retro-grade, is a complete other issue — like Smurfs, for which I have no sense of nostalgia either, I do not yet know why.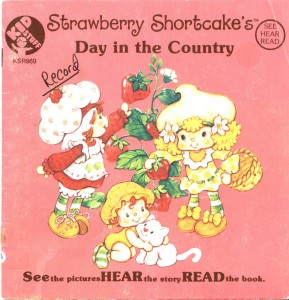 Anywho, I grabbed this SEE the pictures HEAR the story READ the book set for about a buck, as I recall, making it another cheap thrill.
But, like most things I touch, it provokes a few questions…
Why were the pages merely black & white pictures? Were you also supposed to COLOR the illustrations?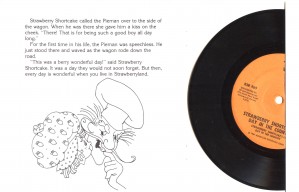 More profoundly, I wonder what's become of the progression of these kids' books… When my eldest was little, the book & record sets had morphed to book & tape cassette sets, then to those (incredibly annoying) books with the computer chips that made noises (whenever you saw the icons in the text, you pressed the corresponding button for an audio clip). And now, the closest things I've seen are the video games which mainly use "pens" to read the words or stories (or, sometimes, have buttons much like those electronic books).
If the concept was based on the philosophy that being read to encourages children to become readers (and these book & audio sets were to assist parents who, for whatever reason, had no time to read to their children), then I think that's been lost along the way. Lost with the interactivity — broken down into amusing "fun" and sold as "learning" yet.
As Gabriel Zaid (and translater Natasha Wimmer) so eloquently & concisely described in So Many Books, reading is a very complicated learned process involving the interpretation & integration of units of complex meaning into a cohesive whole. This is why listening to stories is so powerful — it is more natural, more easily intellectually and even emotionally digested. But once hooked on stories, a person wants to have the independence to select & enjoy on their own; they develop the love of reading.
So why add further fragmentation to the process? Why break reading down into even more chunks, such as distracting gimmicks of auditory bells & whistles? Why add other activities to it, such as pushing buttons, touching screens, using wands — removing one's focus not only from the story as a whole but the page itself?