Via Shop It To Me, I found this Jersey Tassel Necklace on sale at Urban Outfitters. Totally 80's, right?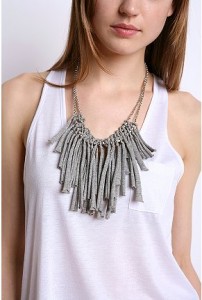 Holy 80's! I remember these suede mini skirt sets with short jackets long on fringe from Wilson's from my days working in the mall. I somehow managed not to spend my paychecks on them; but I do remember wanting to… Must have spent all my surplus at the stores I was working in *wink*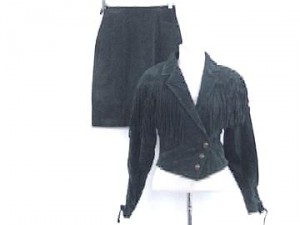 Ah, the fashion Molotove cocktail that is fringe meets acid wash denim — explosive!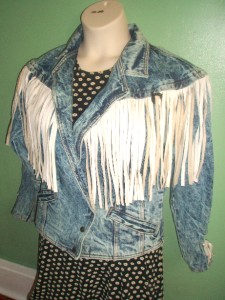 I think all my friends had jean jackets like this. Not me; I had — and still do — a very large bustline and short jackets with fringe not only fit funny (once large enough to cover The Girls, they were too long to be a short jackets), but the fringe actually hid my rack. I just looked sort of lumpy & top-heavy in a bad way.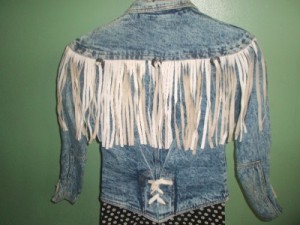 And this last one may indeed be least… We called shirts like these "stripper shirts" — not because of the little strips of fabric with beads on them, but because of the little bit of fabric that was nearly enough to cover you breasts. That and, obviously, you looked more than a bit like a stripper teasing "the goods" — if you bought her a drink would it have the same results as if you stuck a buck in the waistband of her jeans? Oh wait; most men think that anyway. I guess this fringed beaded tee was just the sort of fashion statement that had we ladies thinking like men.