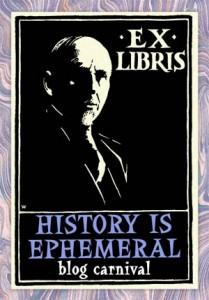 Welcome to edition number five of the History Is Ephemeral Carnival, where ephemera & history lovers share & obsess. (If you've got posts about old paper, please submit them to this monthly carnival via the carnival's submission form.)
Derek (my hubby) dishes on Hell Bank Notes at Collectors' Quest.
Monda gives us a little accidental Southern history in Reading the Minutes posted at Fresh Ribbon.
I predict that the next hot ephemera trend will be in ERA collectibles posted at Collectors' Quest.
The Dean talks about ephemera as local history at Collectors' Quest.
Frank shows us groovy Grateful Dead holography over at Antiquarian Holographica.
Val Ubell shows us adorable cabinet photos featuring children and vintage photographs featuring ladies' hats at Collectors' Quest.
At Things and Other Stuff, Cliff shows off 1936 Godfrey Phillips Stars of the Screen Tobacco Cards — don't miss the gallery!
At Ephemera, Marty shows us golden age of Hollywood autographs as well as a letter sent to Marilyn Monroe.
My husband also gets an Honorable Mention for his review of David Downie's new novel Paris City of Night, a story that combines terrorism, auction house fraud, murder, photography (daguerreotypes), and Nazis into a mystery.
And I remind all you collectors and history fans to help museums! Puh-leeeze.