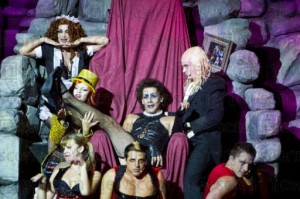 The entire Halloween Horror Nights event at Universal Studios Hollywood has been re-designed for 2009 — including a Rocky Horror Picture Show tribute which begins a 16-night run on October 2nd.
Universal Studios Hollywood will present the Rocky Horror Picture Show: A Tribute, featuring Dr. Frank-N-Furter, Riff, Magenta, & the gang, at this year's Halloween Horror Nights event per an agreement between the theme park and Twentieth Century Fox's Licensing & Merchandising Division.
Howard Nelson, Vice President Worldwide Promotion for Fox Licensing:
The Rocky Horror Picture Show is more than a film, it's become a cultural touchstone in American entertainment and this new attraction is yet another testament to its strength. This tribute extends our relationship with Universal Studios Hollywood, which continues to do a great job translating our properties for live audiences.
The new Halloween Horror Nights will also feature four all-new mazes (including, per agreement among Universal Studios Theme Parks, Lionsgate and Twisted Pictures, a "live" maze experience based on the Saw film franchise), a new "Terror Tram" backlot studio experience as well as terrifying new "Scare Zones." You can keep up with more news & announcements about Halloween Horror Nights' official Twitter account.