For the past several years, hubby has tried to sell his Castle of Greyskull at our rummage sales — and every time I have whined.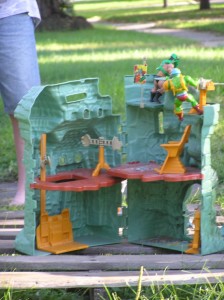 It's not that I'm so very protective of his childhood memories that I would second-guess what he ought to part with (and, frankly, he's sold plenty of his original He-Man collectibles); but I wanted that castle.
It's not that I have any childhood memories connected to He-Man or that castle either. In the 80's I was out wearing skanky Madonna fashions — and, yes, that was far more appropriate for a young woman in her 20's than playing with Mattel's He-Man toys &/or watching He-Man and the Masters of the Universe; I won't apologize for it.
But something about that plastic castle intrigued me…
Maybe it's because I was a huge Thundarr The Barbarian fan — and we never got no stinkin' toys. Or maybe it's because He-Man's castle was so much cooler than any playsets Babs had. (Other than that 1970's Barbie Country Camper — which my BFF Heidi and I used with her cat's kittens, filling the sink with kitten food, and driving tiny sleeping kittens up and down the block — Barbie's toys sucked.)
Anyway, every year that hubby dragged the 1980's Castle of Greyskull up from the basement I whined that I wanted it; but hubby wanted the money more.
I think it was his way of punishing me for my perpetual yanking his chain by calling action figures "dolls." And once, when he asked me what I'd do with the castle, I responded that I'd put tea light candles in it and set it in the window for Halloween; that idea received a sneer.
So every year that the castle went up for sale & didn't sell (even at $10?!), hubby returned it to the basement for the next sale. That is until this year, when my 9 year old son saw it — really saw it.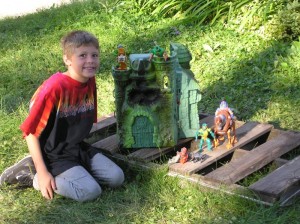 The boy had walked right past it sitting there on the lawn, and even shrugged it off when I pointed it out at previous sales. But this year, when Hunter spotted the castle, his eyes grew into the proverbial saucers, and he whispered that boy-ish "whoa" of being deeply impressed. His little boy wonder plucked my husband's heartstrings in a way my wonder had not, and the boy ended up with the toy. Even more than that, hubby went prowling through other boxes (those set out at the rummage and others in the basement) for more of the He-Man (and other 80's toy) stuff.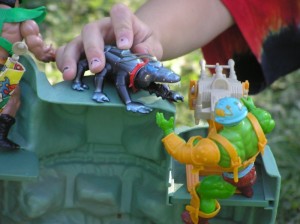 I don't know who was more excited — Hunter or me. (And hubby certainly enjoyed giving Hunter, who'd never seen the He-Man cartoons, the scoop on just who was who in He-Man's world.)
The next day, when hubby went to work, Hunter and I played with the Castle of Greyskull and the He-Man toys.
At first, my son was thrilled with the idea that I would play "boy stuff" with him. (Let's be honest, moms, there's a limit to how long we can push cars around — let alone make car noises that satisfy our sons; so boys too-quickly learn to play without us; and we are a bit relieved.) But…
I sat with Hunter, surrounded by He-Man folk and assorted paraphernalia. I asked which guys I could play with — and was given two of the bad guys. There was a three second pause… An awkward pause. I suddenly realized I was going to have to do battle — I, the non-violent-preaching-mom, was going to have to make my bad dudes fight his good guys. Could I do it? I don't know for certain, but I'm pretty sure my son was thinking the same thing… And I knew I had better start playing before both of us freaked-out from the pressure.
So I started with what I thought was a logical place: I had my two guys talk to each other.
Hunter just stared at me, his He-Man action figures limp in his hands.
Nervous, I just kept going on — thinking, like I always do, that I can talk my way out of anything. Realizing I needed to put some action into my action figures, I began to make my bad guys argue about who's idea for getting into He-Man's lair was better — and then fight. I looked up and saw Hunter just staring at my hands making my guys wrestle and call each other stupid.
Like a television narrator I said, "Now, while they're busy fighting, it might be a good time to capture them." Hunter jumped in with his guy to snag one of my guys (while my second guy got away). Hunter's capture of my guy was my personal rescue; it was no longer some lame girlie theatre performance of one. I don't know what it really became, this playing He-Man with mom thing — at least not in Hunter's eyes… He hasn't invited me to play again.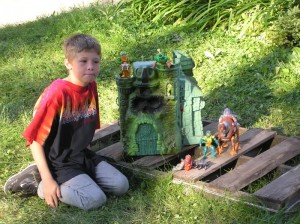 But I have hope.
Maybe we'll even bond over Masters of the Universe DVDs and a new He-Man movie, perhaps?
Anyway, the Castle of Greyskull is indeed way cooler than any Barbie house. Instead of blow-up and other plastic furniture, sticker home decor (which has to go in the place the instruction sheet says, or else it won't be perfect!), and vinyl window scenes, He-Man's castle has real windows, look-outs, and functional pieces, which, while admittedly for violent purposes, make the castle fun to play with.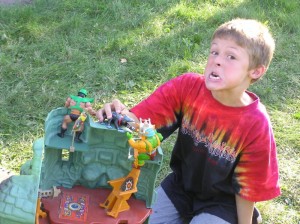 In fact, just the sticker-carpet-covered trapdoor would have improved any of Bab's residences; triple the fun factor if Barbie's Dream House had had a dungeon. (I'm not saying what I would have done to Ken there… I'm just saying it would have been more fun.)
And I guess that's the point about these old He-Man toys — they just looked inherently cool. I had no knowledge of He-Man, nether had my son; we didn't even have the original toy packaging to sell us on it or the mythology. But we both just knew He-Man's world was cool and fun to play with. Even if we need more practice at figuring out how to play it together.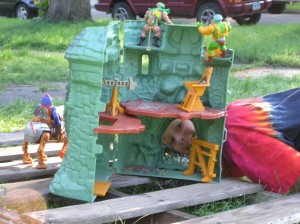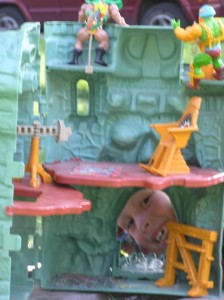 For the first time in my life I wished I'd have been a kid in the 80's… Well, at least they could have given us Thundarr action figures and playsets. Then I might have been better prepared to play with my son.
Then again, I think Thundarr would kick He-Man's ass.