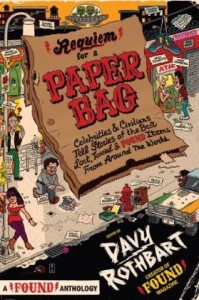 Requiem for a Paper Bag: Celebrities and Civilians Tell Stories of the Best Lost, Tossed, and Found Items from Around the World is a Found Anthology put together by Davy Rothbart, creator of Found Magazine. In this collection, Rothbart gave his famous hipster (I say hipster, because when a book begins with multiple references to both ramen noodles and found porn, what else can you say?) friends an assignment: Share a personal story about something fascinating that you yourself have found, or write a piece of fiction sparked by a particular find.
The resulting works are a feast for anyone who has found something and pondered the meaning or occasion of it — and yes, I mean anyone. Because you don't have to be an ephemera collector to have found a found scrap of paper, a photograph stuck in a book, some trinket and have either wondered or even made up a story about it yourself. (And if you say you haven't done it, I'm calling you a dirty rotten liar!)
Like any well-done anthology, each of the of 67 pieces submitted by the celebri-hipsters is, ramen noodles and porn aside, a unique little gem.
Seth Rogen's Wet & Wild may not have been shocking to me (I've got my own experiences with found porn; and who would be surprised Rogen would have a connection to porn?) but, like Steve Almond's No Panties Allowed, the narrative adds to our collective illumination into the discomforts on the way to personal discoveries about sexuality.
Byron Case's Trash Night reads so much like a memory of my own that even though I've never been lucky enough to make trash picking more than an annual event, I found myself nodding and laughing conspiratorially.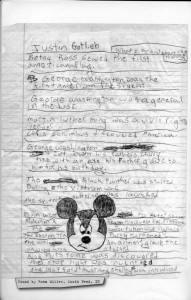 Sarah Vowell's What Else I Know About U.S. History (a written response to a scrap of note paper found by Rona Miller of South Bend, Indiana) is so very Vowell in voice, that I can hear the emo as if she's speaking the piece — and yes, that's a fabulous thing.
And while Bich Minh Nguyen's quote probably remains the most poetic, it's Heidi Julavits' Woodstove Girl which is the most haunting for me… It lingers… I wish I knew if it was real or a fiction piece.
Overall Requiem is a tasty dish, suitable for deouring in one leisurely buffet-style meal or for savoring in snatched snack-sized portions ala carte.