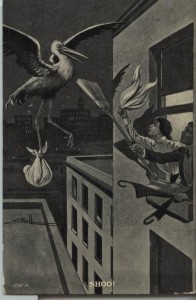 A few months ago, a gentleman contacted me about one of the items in my "vintage stork" collection. The antique postcard, postmarked 1908, depicts a couple shoo-ing away a baby-delivering stork; the gentleman was James M. Edmonson, Ph.D., Chief Curator of the Dittrick Medical History Center and Museum at the Case Western Reserve University; and he was asking if I could get him a larger high resolution scan of the postcard for inclusion in a new gallery the museum was working on.
Could I? Would I? Um, this is exactly the sort of stuff that floats my boat! Not only is my object connecting me with others, with history, but the gallery is for Virtue, Vice, and Contraband: A History of Contraception in America — a new exhibit at the Dittrick Medical History Center and Museum that examines 200 years of the history of contraception in the United States.
So, naturally I did whatever I could to get the chief curator the graphic. And here it is, on the left-hand side of the display designed by guest curator Jimmy Wilkinson Meyer from The College of Wooster: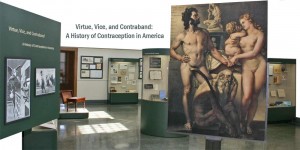 The exhibit (launched September 17, with Helen Lefkowitz Horowitz, author of Rereading Sex: Battles over Sexual Knowledge and Suppression in the 19th Century America, at the Zverina Lecture), depicts the social and cultural climate that influenced birth control decisions in this country, says James Edmonson, chief curator at the Dittrick:
The exhibit reveals a longstanding ignorance of essential facts of human conception. For example, that a woman's ovulation time was not discovered until the 1930s by two doctors, Kyusaku Ogino in Japan and Hermann Knaus in Austria. Before and after this finding, desperate women went to great length to prevent pregnancies. The exhibit explores less well known (and dangerous) methods such as douching with Lysol or eating poisonous herbs like pennyroyal, as well as conventional means such as the IUD or the Pill.

"A remarkable body of literature was available to assist newly married couples and others," says Edmonson. "These books were not displayed publicly, on the coffee table, but hidden in a private place."

He cites examples such as Charles Knowlton's Fruits of Philosophy, or the Private Companion of Young Married People (1832) and the popular 18th century book on anatomy, reproduction, and childbirth, Aristotle's Masterpiece.

In addition to literature, the exhibit draws upon and incorporates the vast collection of contraception devices donated to the university in 2005 by Percy Skuy. The Canadian collector had amassed the world's largest collections of such devices over the course of four decades.

The exhibit starts in the early 1800s, before Anthony Comstock, lobbied Congress to pass the Comstock Act of 1873, responding to what he viewed as a moral decline after the Civil War.

"It was a watershed year. The Comstock Act made it illegal to sell contraceptives or literature about contraception through the mail," says Edmonson.

While Congress legally barred contraception, a black market for such products and literature flourished. Comstock went undercover to search out and turn in violators of his law in his crusade to stamp out what he defined as smut and obscenity.

In the early 20th century, women's advocate Margaret Sanger opened a birth control clinic and research institute, flaunting the Comstock Law. Eventually her efforts evolved into the Planned Parenthood Federation of America.

The exhibition highlights some ancient methods of birth control and presents information about the influence of religion on contraception.

"We wanted to have a multi-faceted look at the topic of contraception," Edmonson says.

Future plans are to expand this exhibit with a companion book, a kiosk where additional information can be accessed on the birth control collection, and an extensive online site available worldwide.
I love that my old postcard is hanging out with Margaret Sanger — well, it does that here at home, but now it's part of the larger public story. And that's cool.
Now I must get myself to Cleveland, Ohio to see it!