Two years ago, hubby and went to the junk yard to get replacement doors for our van, Ookla. I was utterly fascinated with the junk yard itself and was almost disappointed when we found the right doors — but the adventure wasn't quite over yet…
I sat down inside the van, to get out of the hot sun, while Derek went about the business of removing the doors from the junked van; I looked about. Clearly the last owner's belongings had not been cleared out of the vehicle. Paper and trash were strewn about, but then there it was — a Playboy magazine. Water-damaged and smelling of mildew, but there it was, right next to a bottle of Axe body spray. Does it get any more kitsch than that?!
(Now, before I go any further, you should know a bit more about when we went to purchase Ookla, our old conversion van. When the salesman unlocked the vehicle and showed us the spiffy airline lights which ran along the floor and the ceiling, the first thing I said was, "Hey, was porn made in this van?" Both the salesman and Derek blushed. So I'm neither a prude nor surprised that the previous owner of this van was also marked with smut — it just seemed to be a sign that along with make, model and year, these doors were the right match for dear old Ookla.)
But before I could reach for that Playboy, my eye spotted something else…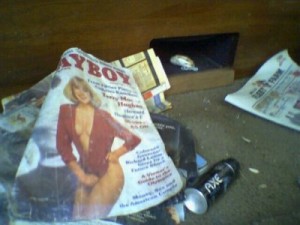 Yup, that there is a used tampon, folks.
I carefully reached for the Playboy. It was only the cover and badly damaged — but where there's a cover… So I kept looking about, being very careful where I put any part of myself, least I find another tampon. Or worse.
Next, I spotted a notebook with a fancy silver foil cover. Only the first page was written on — a cheap attempt at fantasy fiction, with the main character discovering a magical notebook with a silver cover. (Yeah, I took that home for giggles later.)
I then found a bill for the van's last oil change, paid for in 2005; been sitting here awhile, I guess.
I eventually found the insides of the Playboy and I put them with the magazine cover pages and the silver notebook just as Derek called for my help to hold the doors while he took out the last bolts.
I got out of the van, headed to the back. Standing there, just holding the doors, I scanned the insides of the van from this new angle. Immediately I note Star Wars light saber boxes — not one, but two of them. If the amateur sci-fi-slash-fantasy-fiction and Axe wasn't proof enough of an under-sexed goober, the Star Wars weaponry was. This van was owned by a nerd. A nerd who, according to the oil change bill, had the first name of Jim.
Then I spy something else…
"Hey, Derek, what's that by your foot?"
"Huh?"
"What's that black thing by your foot?"
"I dunno. Let's get this door off…"
We set the door down and I go to get a closer look at the black thing which was by his foot. It's a bit of fabric… After the tampon, you'd think I'd be leery, but I had to know what it was, so I cautiously picked it up.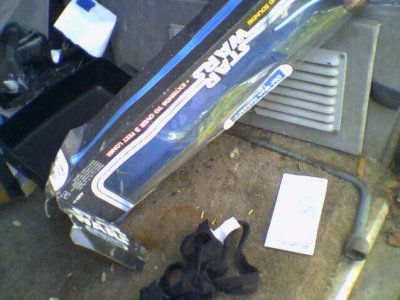 In my hand I then held one very small pair of black nylon panties, bikini style — with lots of lace. I should've dropped them like they were on fire, but they were very, very clean looking. I started laughing.
Oh my God, it looks like Jimmy had himself a woman. At least once. A light-saber-playing, small-black-panty-wearing, menstruating, Playboy-accepting woman who could tolerate the smell of Axe.
There's someone for everyone.