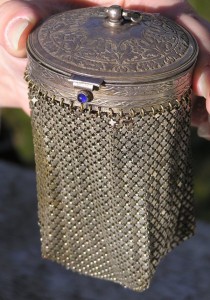 On Saturday I got my first real antique purses — and, as usual, I'm obsessing over researching what I can about them. Today I'm going to inform you about the fascinating things I learned about antique metal mesh bags by Mandalian Manufacturing Company.
First a bit of history.
Armor mesh bags by Mandalian are as sought after as those by Whiting & Davis. Though, admittedly, metal mesh and chain had been used for quite some time, Whiting is often credited for having developed the technique for the first mesh bags in 1892. He then partnered with Davis in 1896 and when the mesh machine was invented in 1909, Whiting & Davis acquired the patent. This not only affected the cottage industry of women who hand soldered the up to 100,000 links per bag, but limited big business. However, companies keep trying because the metal mesh bags were only becoming more popular.
One of these was Sahatiel Gabrabed Mandalian, an Indian immigrant * who was focused on quality more than quantity. This is noted in A) the remaining purses themselves; B) the quantity of advertising (Whiting & Davis papered the world promoting their larger production runs, while Mandalians' ads and inventory were much fewer in number)' and C) the number of patents Mandalian held — with quite a few in metal mesh and enamel application, as well as jewelry and other accessories.
One of the ways Mandalian separated his mesh bags was with the invention of applying crushed fish scale to the mesh, creating a 'pearlized mesh' the company promoted early on, as this vintage tag shows, Color-Vision-Bag, Trade Mark, Process patent Pending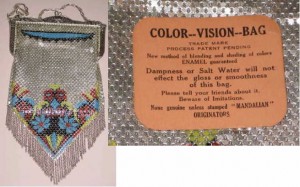 However, the name most of these vintage bags sold under was Lustro-Pearl, exhibited here by this Mandalian mesh purse with original box and tag.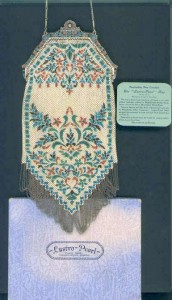 But fashion accessories weren't the only things Mandalian envisioned — for his Lustro-Pearl, or his mesh metal. In the May 19, 1931, issue of Exhibitors Forum (page 6), this news:
"Lustro-Pearl" New Metal Type Screen

A new type metal mesh projection screen, known as "Lustro-Pearl," has been placed on the market by Mandalian Manufacturing Co., of North Attleboro, Mass.

The advanced features claimed for this new screen includes: A surface treated with the purest of known chemicals, entirely free from gloss, eliminating all distortion to ordinary types.

Highest reflection factor known to reputable light testing laboratories, effecting a considerable saving of electric current.

Constructed so as to distribute sound very clearly and uniformly throughout the entire theatre.

Can be washed with hot water and soft brush without injury to its surface.

Affords clear view of any picture from any angle of observation, eliminating eye strain or discomfort to patrons.

Surface may be sprayed periodically for many years, and for this purpose, the company plans to loan for a period of ten years a complete up-to-date spraying outfit with each screen purchased, and furnish chemical solutions from time to time for resurfacing this type of screen.

Its high reflective qualities bring out objects in a manner which might be termed the nearest approach to three dimensional pictures, the company claims.

RKO Proctor's 58th Street, New York, is among the first houses to install this new type of screen.
(This patent, #1,890,819, was issued December 13, 1932.)
But eventually even the better made and more stylized mesh bags by Mandalian couldn't compete with Whiting & Davis who, by 1944, added Mandalian Mfg. Co. to their list of competitors they'd bought out. Sahatiel G. Mandalian would pass away just five years later.
I could find no record of whether or not that included the film projection screens — or if that business had folded long before 1944. Any info is appreciated!
*
UPDTATE: Per comments, Sahatiel was not Indian but an Armenian immigrant born in Constantinople, Turkey.