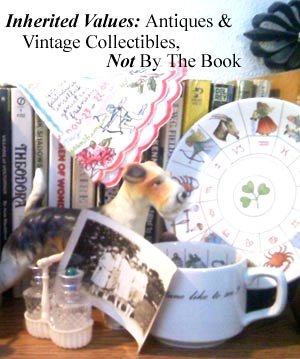 'Cuz you know I just don't have enough to do what with moving the sites and all…
I've started Inherited Values, a new network for lovers of antiques and vintage collectibles. It's not a site about "how much something is worth" in the monetary sense; it's about the values in the objects themselves — and it's far more nostalgic and sentimental then I here, where I'm passing out the kitsch slaps *wink*
I started Inherited Values because I wanted a place where I could, with other moms and pops in the biz, focus on and share the joys of collecting old things, specifically. And do it in a more nostalgic, personal, and (I hope) beguiling way.
As the site tagline says, we don't do antiques and vintage collectibles by the book!
Here the focus isn't on money — because the only time price matters to a true collector is when she's checking her wallet.
We won't rehash the same old dry descriptions — because you don't want to read them (and we don't want to suffer through writing them!)
We won't focus on new stuff — because there are plenty of sites being driven by those deep pockets.
We won't make the usual comments about conditions — because collectors at all levels know that stuff.
We do, however, aim to assist antiques and vintage collectibles, be they handed down to you or the heirlooms you'll one day leave behind, in charming the proverbial pants off you.
The site is live now (so if you're a collector I do invite you to come on over!), but we're still looking for a few dealers of antiques and sellers of vintage collectibles to join us. Email me at Deanna.Pop.Tart@gmail.com if you're interested in joining the ne