Because I become obsessed with research, especially when so little is readily available…
In doing some additional research for a piece on silent film star Valda Valkyrien…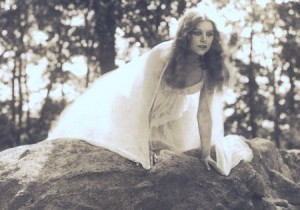 I found juicy tidbits on her first husband, Baron Hrolf von Dewitz.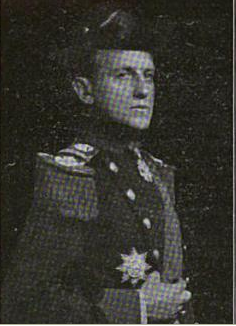 From The New York Times on September 7, 1919:
Special to The New York Times
GREENWHICH, Conn., Sept. 6.– A man calling himself Baron Hrolf J. O. E. Dewitz of New York, a moving picture director, and a girl who said she was A. M. Thaisn de Malmey, a moving picture actress, and daughter of Joseph W. de Malmey and Catherine Thomas de Malmey, were married today by Justice Albert S. Mead in his office. They came up by train from New York, and the bride changed from a traveling dress into a gorgeous pink creation for the ceremony and back again afterward into her traveling costume. Dewitz gave his age as 40, and said he was born in Denmark, and Miss de Melmey gave hers as 21, and said she was born in Spain and was a cousin of the late Empress Elizabeth of Austria. They said they had never been married before. They left for New York, saying they would leave New York Sunday morning for the Pacific Coast.

The so-called "Baron" Dewitz, in spire of his statements to the Greenwich Justice, has been married before, not only once, but several times, and his erstwhile wives are on record as divorcing him. Records show that on May 17, 1908, he was married to Nina Pastorelli, a toe dancer with "The Dancing Daisies." On April 4, 1911 he married Mrs. Katheryn de Montford, an actress, who obtained a divorce from him on Jan. 18, 1912. His third venture was with Miss Freed, whose stage name was Mlle. Valkyrien, another dancer, who as Mrs. Adele Freed von Dewitz also got a divorce, the interloculory decree having been signed on Feb. 13, 1919, by Justice Albert F. Seeger at White Plains. She was then in the movies, and the decree gave her the two-year-old son of the pair.

At the time he married Miss Freed, otherwise Mlle. Valkyrien, the "Baron" sent out cards announcing that their residence would be at the Plaza after Sept. 1, 1914, but at the time the cards were issued he and his bride were living at 560 West End Avenue with a Miss Bessie M. Clay.
So far, I've not found anything substantive about the earlier Baronesses von Dewitz (and you know I'll keep looking — The Dancing Daisies?! Oh. My. Gawd.).

But I did then find a lengthy wedding notice, also in The New York Times, dated June 23, 1914. (I'm so going to interject along the way for this one.)
Cards bearing the imprint of a jewelry house and the baronial crest of a noble Danish family were sent through the mails yesterday to well-known New Yorkers, saying that:

Lo Lieutenant Baron Hrolf von Dewitz,
et Mademoiselle
Valkyrien Freed de Copenhaque
ont l'honneur de vous
announcer leur mariage en date du
quatorze Mai, a L'eglise
Evangelicale-Lutherienne de Saint Mathieu
a Jersey City
Don't you just love "Jersey" tacked on the end of all that French — and when, for that matter, did Valkyrien become French?
A second card states, also in French, that the Baron and Baroness would be at home at the Hotel Plaza after Sept. 1.

Baron von Dewitz, whose marriage on May 14 in Jersey City is thus announced, is the same Baron who on April 4, 1911, married Mrs. Kathryn de Montford, an actress, at Stamford, Conn., and who, several years previously was reported married to Nina Pastorelli, a toe dancer. Although the alleged marriage with Miss Pastorelli was extensively published in the newspapers, it was shown later that the wedding did not take place.
The matter of being shown that the marriage to Miss Pastorelli did not take place is A) not as reported later, and #2, not really shown at all.
In his most recent matrimonial venture Baron Dewitz again went to the stage for a wife, for Mlle. Valkyrien Freed is a dancer and a member of the ballet of the Royal Theatre in Copenhagen. Furthermore she is about to embark upon a professional career in this country despite her title, and at a dinner tonight at the home of Miss Jeannette L. Gilder, the writer, her stage future is to be talked over by her husband, Miss Gilder, who, through taking the management of another dancer has become an enthusiastic impresario, and the Baroness herself.
Please note the Baron's involvement in his wife's career; there is more flavor to savor later.
Although the wedding announcement cards say that the Baron and Baroness will be at home at the Plaza after Sept. 1, they are at present living at the home of Miss Bessie M. Clay, at 560 West End Avenue. It was explained last night by Baron Dewitz that this was because he and his bride wished to live in seclusion for a while, and at the same time it gave the Baroness an opportunity to practice her toe dancing.
The Miss Bessie M. Clay mentioned is likely the then President of The New York Institute of Music, located on West End Ave.; more on her, and why they would live with her, is here.
The marriage of Baron Dewitz and the toe dancer, who is not yet 19 years of age and who is a young woman of remarkable beauty, ends all the chances the Baron had of coming into a great estate and another title, he said last night. In fact, he is likey to be cut off by his relatives altogether for not returning to Copenhagen and marrying into a royal family.

"This wedding with Miss Freed," said the Baron last night, "was a real romance. Two years ago when I was at home I met her and we fell in love. I returned to this country and we wrote each other frequently, but my family, and hers, too, put so many obstacles in our path that we gradually stopped writing. Last month we decided to marry after all, and so she came to this country. I met her at the boar and took her to the home of a married sister in Jersey, and a week later we were quietly married.
Put a pin in that "met two years ago" part — there will be some math.
"We are going to Newport in a short while, and she may give some exhibition dances there. I have been approached with offers to to upon the stage, but I am told that in this country a man who goes on the stage is not likely to be taken seriously in business affairs afterward. In my country I could go on the stage as a lark and nothing would be thought of it.
Remember when I asked you to note the Baron's involvement with his latest wife's performance career? Well, it sure seems to me that the Baron von Dewitz desperately wants a stage career himself. He's willing to give up his title and wealth for it. And remember that first (though more recent) article wherein he calls himself "a moving picture director" — I guess that line's a winner.
"The report that I have been married several times is all a mistake. I knew Miss Pastorelli when I was here some years ago and was seen about with her frequently. Some months after I had left this country I was surprised to get some old newspaper clippings saying that Miss Pastorelli and I were married. It was so long after the time that the stories had been published that I did nothing at all about it. I was divorced from Mrs. de Montford about a year and a half ago."
But remember, the later clipping states that "records show" his marriage to Pastorelli on May 17, 1908. "Records," not "reports."
And remember, you have a pin in the number two, right? Do the math with his statement that he "was divorced from Mrs. de Montford about a year and a half ago." Erm.
Baron Dewitz, who writes for the magazines, was a Danish naval officer who was one of the first to take up aeroplanes as war machines, and for some time was interested in perfecting air warship which he wished to sell to European Governments. He said last night that the cost of the enterprise was so heavy that he finally dropped it.
Baron Dewitz apparently did write, including a book titled War's New Weapons.
At least that much is true.
*About Miss Bessie M. Clay and The New York Institute of Music: A bit from The New York Times, October 22, 1905:
An interesting feature of this college is what is known as the "Home Department." As more and more girls have been coming from places far from New York to study music, there has been a growing demand for their proper accommodation in the city. Accordingly it is now possible to obtain not only musical instruction at the institute, but rooms, board, and chaperonage can be secured. But the care of the visitor does not stop here. Informal teas and receptions will be arranged to which persons prominent in the musical and artistic world will be invited. There are classes in dancing and fencing, and there is also a bowling alley and gymnasium. In other words, a student from the West can secure here many of the advantages and pleasures she would find at a college like Wellesley or Vassar.
I believe this 1906 issue of Music Trade Review is also on Miss Bessie Clay (said to be the niece of Major Clay of Sherman, Clay & Co.) and her marriage to Truman A. Glaser.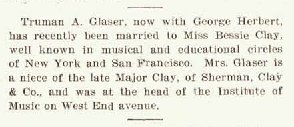 However likely this seems to be the same Bessie Clay, I cannot account for the continued reference to her as "Miss Bessie" past 1906.
And that brings us to the end of today's (last night's) obsession. Until I find out more — or you add to the story with what you know.
Once again, I'd like to declare my deep abiding love of The New York Times for making their archives available.