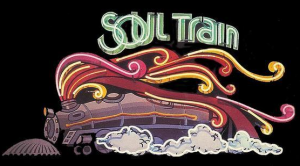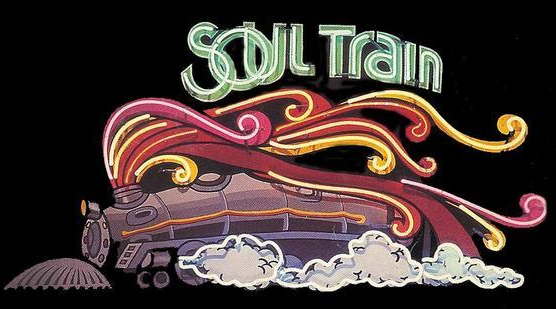 Hubby and I enjoy the hell out of reruns of Soul Train.
Rediscovering lost musical loves and finding new-to-us artists to hunt for, like Johnny 'Guitar' Watson
, is too awesome. The clothing and dances are feasts for the eyes. Don Cornelius holding the mic a hundred yards away because his deep booming voice doesn't need a mic, but the show totally believes in the props, is a hoot. Spotting regular dancers and keeping up with yesterday's lingo… It's heaven.
But we also play this game when we watch reruns of Soul Train. The Soul Train Game is to guess the year of the episode before the credits roll and reveal the answer.
Amazingly, hubby always wins — even though he was an underage kid when most of these shows aired.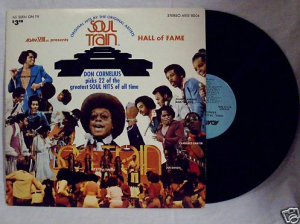 You'd think I'd have the advantage; not only was I buying plenty of records
and tapes, but soon I was out dancing in (and dressing to kill for) the club scene too. But no, hubby, the stay-at-home-young-pup wins.
I'd like to think it's a matter of me over-thinking my answer (I lived in the Midwest, so how far behind were we in the fashions?). But the simple fact is, he is smarter about this stuff. I'm greatly disadvantaged because I don't think in terms of years; I view life and history as "chapters" and "episodes," and am hard-pressed to name dates. His knowledge of technology and historical time lines beats out my real life experience — at least in this case.
(In fact, I always turn to him to help me date any antique or vintage collectible — even clothing — because he's so damn good at this stuff.)
But I have another point to make, another story to tell, so I'll move along…
The other day, hubby and I were joking about the Soul Train Game, and Destiny, the 13 year old, asked us what we were talking about. Have you ever tried to explain Soul Train and American Bandstand to a teenager of today?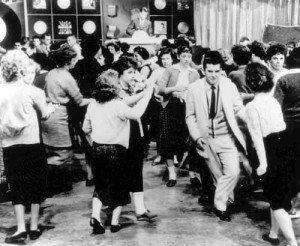 She couldn't fathom the idea of kids wanting to watch a bunch of kids dance on TV, let alone that those dancing kids had groupies and fan clubs of their own.
So how could we move on to the issues of race and lip-syncing — often with a microphone from the future, with a fake short cord that wobbled about. But we did. Because that's the kind of context geeks hubby and I are.
Honestly, I think Des understood the race issues and the faux Microphone Of The Future better than the concept of turning on the television to watch a bunch of kids dance.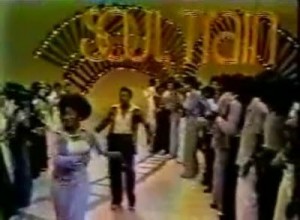 I'm sure getting over this speedbump of understanding is thwarted by her preference for Goth-kid-attire; she's not interested in finding out the latest trends in fashion.
I'm sure the fact that learning dance steps is only relatable in terms of the uncoolness of line-dancing in phy-ed — or today's shows which emphasis professional dancers, oft paired with celebrities. Destiny's clearly not thinking she should bust a new move on the dance floor — or that watching teens dance on TV would be the way to learn. You'd Google it, right?
I guess the basic problem here is that these shows didn't spoon-feed you the dance steps, or break down fashion into sponsored "must haves."  You watched, like a voyeur, identified what you wanted, and figured it out. So to kids today, the concept of watching teens dance on television is like watching a party through a window — only you're allowed to go, so where's the thrill?
And so I didn't even try to get into Solid Gold or the Solid Gold dancers.
Even after she watched Soul Train with us (right after a Ru Paul's Drag Race episode) it didn't seem to make sense; she made it through the hour of Ru Paul, but only 20 minutes of Soul Train.
Explaining teenage dance shows to kids today is like explaining the joys of watching fuzzy YouTube clips of a kid & his light saber dancing to Star Wars to the kids of yesteryear.