Betty White is my idol. I've been a fan my entire life — even when my beloved grandmother stated her dislike of Ms White (which was weird, because my grandma was sooooo like her!).
I thrill at every chance to watch her, especially when, in 2006, Family Guy included her as the book-on-tape voice of Peter's erotics novel, or Peterotica:
Welcome to Peterotica on tape! I'm Betty White reading The Hot Chick Who Was Italian, or maybe Some Kind of Spanish by Peter Griffin. Chapter One: "Oh God you should have seen this one hot chick. She was totally Italian. Or maybe some kind of Spanish….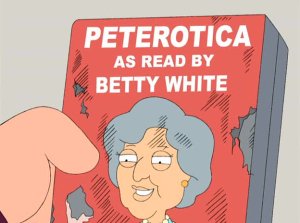 But I digress.
As you all know, Betty White was on Saturday Night Live this weekend. The show drew the biggest ratings since November 2008, pulling in somewhere between 12 million and 13 million viewers, according to preliminary Nielsen estimates, some of whom said the show was too blue — but what the heck did they think Betty White was going to do? She's been risqué, the queen of delivering double entendres, for decades! And it's one reason we all love her.
I was especially heartened to see the huge number of former SNL female comedians who returned to perform with Betty. I choose to believe that upon hearing that Betty White was scheduled each & every one of them called and asked to be on the show too. I have no proof of this — and don't contradict me; I prefer to enjoy such thoughts.
If you missed SNL this past Saturday, you can get yourself on over to NBC.com to watch the entire episode — as well as three sketches which were cut from the show due to time. My favorite of the cut sketches is the "Debbie Downer does a suburban lingerie party."
The other cut sketches: Joyologist and Bronx Beat.