Ranch Romances & Adventures, May, 1971.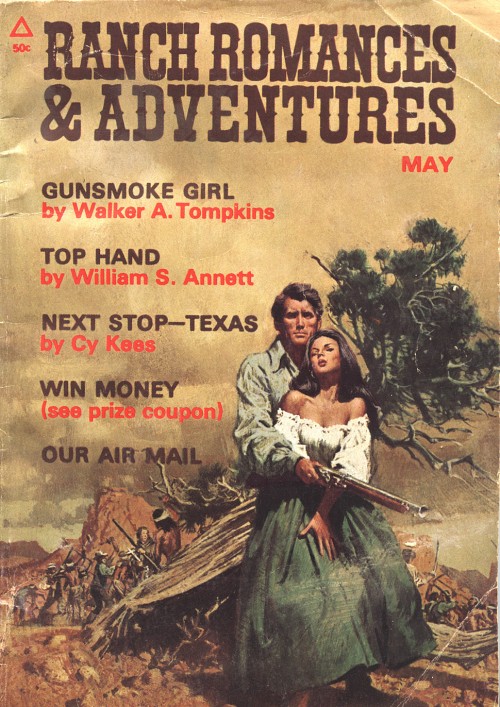 Contrary to what Jack Martin/Gary Dobbs says, I do not see Ranch Romance (& Adventures) magazines as primarily for women.
Jack/Gary says they must be "aimed at young women since all of the stories have a romantic element to them." But come on now, dude, I know this may be difficult for a man who loves Westerns to admit but the whole genre – from books to films — is nothing but male romance novels and dick flicks. Sure, there's some action in there; but the guns and body counts are there to win the damsel, the dame — the 500 miles he would walk just to fall down at her door
.
Stop living in denial.
You men are just as much suckers for romance as we women are. You want to read about a good chaste kiss, a ravishing bodice ripping — and this publication proves it.
Or does it… Perhaps I am biased more than a bit by my feminine experiences and feminist equality-seeking nature. For over at Laurie's Wild West, Laurie Powers shares the story behind the pulp magazine, using the publication founder's own words. Harold Hersey claimed full credit for launching Ranch Romances in September 1924 (The "Adventures" joined the "Ranch Romances" in 1969) in his biography, Pulpwood Editor
. Hersey writes:
My home run was Ranch Romances. I conceived of the idea of combining the Western and the love themes in a single magazine under the title of Western Love Stories. Our distributors considered it too close an imitation of the Street & Smith titles. We were told to think up another. The result was Ranch Romances and it was an almost instantaneous hit with women readers. Instead of the cowboy hero, we offered the cowgirl heroine. Bina Flynn, the editor we chose to handle the fresh idea, built the magazine into a huge success.
While I think combining Westerns and Romances is redundant, either I'm wrong — or Hersey's another one of these men afraid to admit the romantic truth about men. Maybe, just maybe, the truth of Ranch Romances' success lies in the complicated truth of this simple line: "Instead of the cowboy hero, we offered the cowgirl heroine."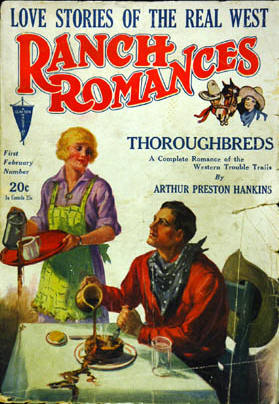 Women likely responded to dreaming the possible dream of a strong female heroine who was still desired by men. Men likely felt reciprocally reassured that even today's ballsy woman still could be wooed and won by a macho male. (However, as always, the stories end before the truly difficult part of meshing roles and living happily ever after begins; like dirty dishes in the sink, no one wants to get to that part.)
Laurie Powers touches on some of this modernized gender stuff in her post too, so read that as Exhibit A. And as further proof of the male adoption of this publication I'll let you know that the previous owner of my May 1971 issue was male. And check out the sexist ad on the back cover.
Anyway, this Ranch Romances & Adventures I have makes me sad. (It probably made others sad too as it was the publication's last year.)
Ranch Romances
may have been more of a pulp publication, prior to the mid-1960s at least, with fantastic graphics and fantasy fiction, but by this point the magazine was more personals ads digest than pulpy delight.
Of course, I may be biased. Again. I prefer the vintage styles more than the retro ones, and my "like" barometer is built upon that grading system. But from what I've seen and read, Rance Romances & Adventures is a desperate combination of personal pleas and ads designed to make money off those in despair.
(I'll be sharing more of scans from this particular issue here and over at Kitschy Kitschy Coo as Valentine's Day approaches.)