I've fallen in love with a newly discovered blog: Visual Arts Library Picture & Periodicals Collections, part of New York's School of Visual Arts. And not just because David Pemberton, the Periodical/Reference Librarian who runs the blog, linked to my (obsessively detailed) post on The Mentor magazine, either. (Though I am a sucker for librarians and curators — and links don't exactly hurt.) No, I'm in love with this new-to-me blog because of it's content.
Sure, the visuals are great — as you'd expect from a visual arts school library. But it's more than that. It's the writing. Not just the historical context I crave, but the frank tone I adore. Such as the delightful description of National Lampoon Magazine as having "heaping sides of boob and toilet humor." (I know I'm a fan of heaping boobs and even side-boob *wink* I've even succumb to toilet humor plenty of times.)
But the best part is the mix of selected offerings. Again using the National Lampoon post, look at this gem from the August 1975 issue:
Many of the magazines have embedded publications in them that parody other actual publications, such as this one that is supposed to have been put out by the state of Mississippi Bar Association featuring articles on "Closing Those Loopholes in Mississippi Lynch Law" and "No-Fault Rape–New Concepts to Protect Our Menfolk:"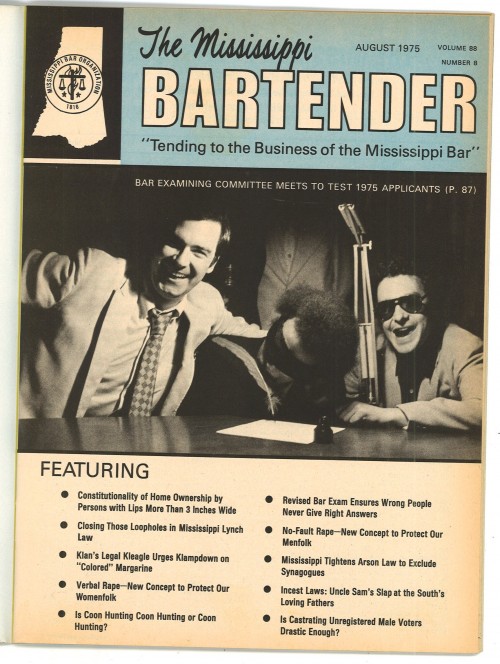 I'm absolutely dying to read that! I bet most of the satirical messages are still relevant today. But then I love to read what I collect. …How else can I obsessively research it, over-analyze it, blog about it?