While interviewing Lauren Roberts about her bookmark collection (continued here), I found one antique silk bookmark most fetching…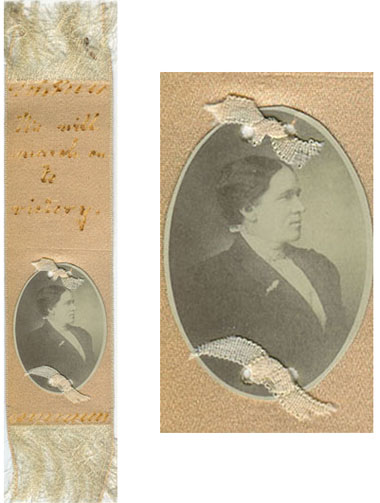 Turns out this might just be a bit of suffragette history.
Lauren, can you tell me more about the Carrie Chapman Catt bookmark?
Oh, I loved this one! I bought it because it was beautiful. It is a soft cream-colored silk with delicate fringe on both ends. The woman's picture is attached with silk ribbon that goes through the bookmark. The words read "We will march on to victory."
When I first bought this I thought it was a bookmark made by a WWI soldier for his mother (or vice versa), and that it had her picture on it. I can't remember how I came around to the idea that it might be Catt; perhaps the seller suggested it?
I searched out numerous images of Catt online but nothing like this ever showed up. Since it is a formal portrait it is impossible that it was the only copy of that image. Plus, the picture is of a woman likely to be in her fifties, and by that age she was certainly well known for her work. But the resemblance to Catt is startling. I sent it off the a librarian at LOC, and she agreed that it very much appeared to be her but since they could not find another copy of that image either they had no proof one way or the other.
The saying on it leads to me to wonder if it might in fact be Catt's mother. The age is likely right since the clothing appears to be from the late nineteenth century. Could it have been an image of Catt's mother when Catt was in the midst of the battle for women's suffrage and she made this up for her mother as a kind of promise? If so, it is a very valuable piece of history, one of kind. But again I will never know, which is both sad and compelling.
Well folks, if you can help with identifying the portrait — or have any other information — please let us know! Post a comment here or contact Lauren. Thanks!