Love and the shoes Marty McFlyin wore in Back to the Future II? Spread the love by getting yourself a pair of rare and collectible NIKE MAG shoes while raising money for Parkinson's research.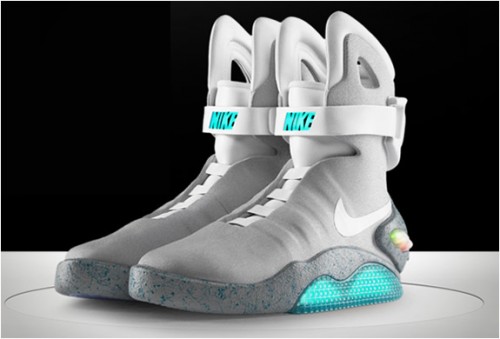 Auction giant eBay will auction off 150 pairs of 2011 Nike Mag sneakers each day
, ending September 18, 2011. All net proceeds from the auction sales of the 2011 NIKE MAG go directly to The Michael J. Fox Foundation — the largest private funder of Parkinson's research.
http://www.youtube.com/watch?v=eYMyEqRb2cw
The shoe auctions began on September 8th, and the first 150 pairs sold for approximately $6,100 per pair — reportedly raised an amazing $921,290 for The Michael J. Fox Foundation. Since then, prices have dropped to roughly $4,500 per pair. Prices may still very well continue to drop. While still not affordable for me, those of you looking for something rare for yourself –or to give that special someone, this is the gift that "kicks."