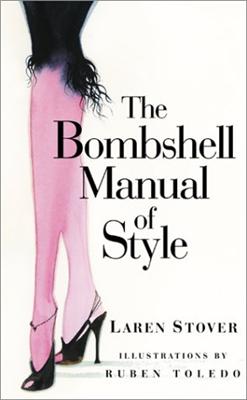 I've decided to part with my copy of The Bombshell Manual of Style
, by Laren Stover (Ruben Toledo, Illustrator). This hardcover with dust jacket is in like-new shape, and sex kittens, vamps, etc. will enjoy it.
In a previous review, I wrote this of the book:
A fast fun romp through the lives of bombshells. No so much on the 'how tos' of makeup or fashion, but a funny & fresh look at what makes a girl glam! Covers excuses, words to live by and how to throw a tantrum – you know, the stuff you really want to know. A great book for reading as you soak in a champagne bubble bath!
There are many ways to enter…
To Enter:
* Follow me on Twitter: @DPopTart. (Please leave your Twitter username in your comment so I can check.)
and/or
* Tweet the following:
I entered @DPopTart's contest to win a FREE copy of The Bombshell Manual Of Style http://t.co/vJp33Va
(Remember to come back here and leave a comment with your tweet for me to verify.)
You may tweet your entry once a day.
and/or
* Friend me on Face Book: Deanna Dahlsad. (When making the request, note that you are entering the contest.)
and/or
* Post about this contest at your blog or website — if you do this you must include in your post to this contest post or Kitsch Slapped in general.
(Please include the link to your blog post in the comments section so that I can find your post.)
and/or
* Post your entry as a comment — if you do this, please make sure I've got your email address, because if you're the winner I'll need your email address to contact you regarding your shipping information.
Here's the giveaway fine print:
* Giveaway is open to US residents only
* Be sure that you leave your email so that I can contact you
* Contest ends September 15, 2011; entries must be made on or before midnight, central time, September 14, 2011. Winner will be announced/contacted on September 16, 2011. Winner has 48 hours to respond; otherwise, I'll draw another name.