Now That You're Big, by Simon Greiner "with apologies to Dr. Seuss," is an amusing parody of the classic kids' books with a twist: Now That You're Big is about sexuality. Including the one activity that is supposed to make you go blind — masturbating.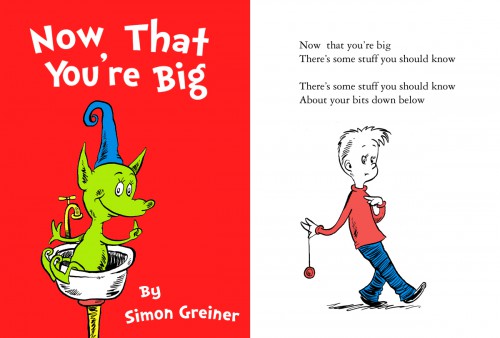 At first glance, it's down-right clever; but then something creeps in and creeps you out… Men are having all the fun in this book, not women.
Ms.JayLynn notices and points it out too:
The Dr. Suess nature of this is great, but unfortunately I have to offer a bit of criticism. You've done a lot to reinforce standard gender stereotypes.

The section for guys reinforces the idea that it's ok to ogle girls, and masturbate. The section for girls is all about "be careful because you might be pregnant. Really? Is that the message you want to be sending?

How about teaching girls that masturbating is a good thing and not something to be ashamed of? And what about teaching guys the importance of being respectful and mature about birth control?

Also, where's the safer sex message? With the millions of euphimisms about condoms, there's gotta be a way to put at least one of them in a Dr. Suess fashion. Don't you think that's an important message to put out there?

Maybe this was all done in fun and games, and you were just amusing yourself with it. Great! I'm glad you had some fun and put together an awesome piece in the style of Dr. Suess. However, there's a much bigger picture here as well, and I hope you'll take a few minutes to consider it.

Be well.
Despite her "Be well," Ms.JayLynn was, of course, bashed for not having a sense of humor.
Hey, Ms.JayLynn, come on over here where we understand that sometimes inequality just isn't funny. Sometimes even jokes and humorous pieces when just left to their own comedic devices do more than inspire giggles — they perpetuate the stuff that makes us insane. Like treating women as problems not people entitled to their own pleasures. Like not discussing the health concerns by omitting condoms — but still pointing out pregnancy, as if it were "the worst" and something women are responsible for. Ugh.
As for those leaving nasty comments to MsJaylynn, here's something for you to consider: Now that you're big, stop being a sexist pig.