This is a vintage WKTI Tailgator pinback from 1983, featuring Old Style beer. It's mere 1.75 inches, but oh the size of the memories it unleashes…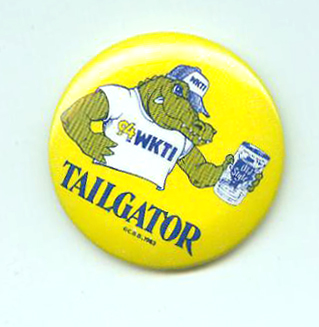 If you're of a certain age — and from the Milwaukee, Wisconsin, area — you remember this era of WKTI, Reitman & Mueller — and the uncomfortably named Jim "Lips" LaBelle.
Thinking of WKTI reminds me of the days our family ventured into the retail business. We bought into the Just Pants franchise, running the Just Pants store at Southridge Mall, then a Taubman Mall (Taubman married and divorced from Christie Brinkley, a rather too present icon of my life, helping me date nearly anything).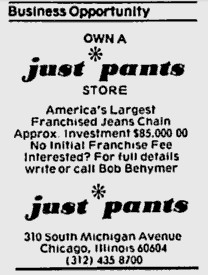 Our biggest Just Pants competitor was the County Seat — and Kohl's department store (which bled we specialty jean stores to death by using Levi's and Lee denim loss leader sales). Anyone else remember the days of denim walls so high, sales staff used ladders to reach the goods? That's the pun behind this sexy Just Pants ad — it predates when we had our store (and I doubt we would have ran the ad ourselves, even if it had been in the creative pool of franchisee options.)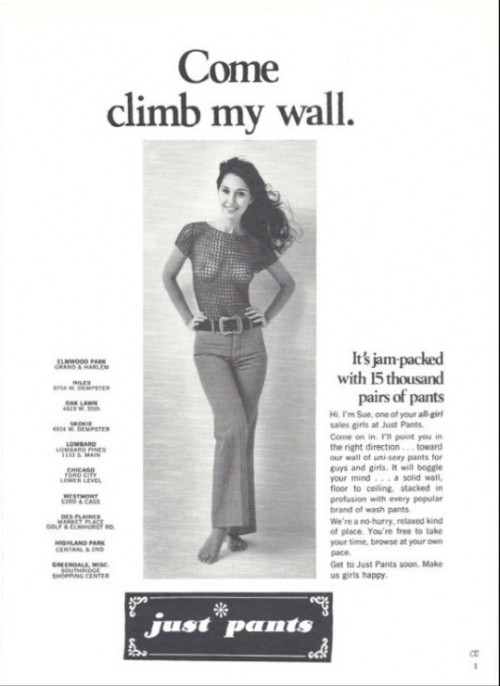 Anyway, in that era we not only often played WKTI in the store but we special ordered and custom hemmed Bob Reitman's black boot-cut Levi's. Yeah, we were that cool.
Back then, we not only played whatever radio we wanted in the store, on July 13, 1985, we played the Live Aid broadcast in the store. I called in from the store to donate, getting myself an official Live Aid t-shirt. (They were out of my size, so I received a size small which wouldn't have covered The Girls and so it has remained safely packed away all these years.)
Now, WKTI is WLWK, "Lake FM." (Reitman's still kicking it on air with his weekly show, It's Alright, Ma, It's Only Music.) And, ironically, Lake FM sounds almost like an auditory time capsule of the Reitman & Mueller days. I know, I've listened to the station when I've traveled home. Old habits die hard and my fingers still "dial" to the stations I recalled. Not that any of them are there anymore.  Lazer 103, QFM, LPX… All long gone. Apparently, after I moved from Wisconsin, the radio station marketplace went to hell. I'm not the only one who's more than nostalgic; check out 93QFM: The Halcyon Daze for Milwaukee Rock Radio DJ Stories.
This got me thinking about the other radio stations & DJs… And the connections to retail.
Marilynn Mee, aka Jackpot Girl, part of Bob And Brian's morning show on Lazer 103 (Mee may still be on WKLH?), was someone I met quite often when I was working at the Estee Lauder counter at Gimbels. Mee was pals with Pam, who worked Lancome. I envied Mee her wardrobe of all things.  But then, if you've ever had to wear the cosmetic girl garb, well, you'd understand it. Hard to feel 80-'s glam when you're wearing a turquoise smock-tent, no matter how fab your face and hair look. (Despite the fact that Marilynn and Pam partied with rock stars, I was the good girl who found herself knocked up; an entirely different subject, and I've digressed too much already.)
Because I'm all nostalgic about radio…
My first radio love was WOKY — and AM station that then played top 40 pop stuff. It came in loud and clear on my red ball Panasonic R-70 transistor radio.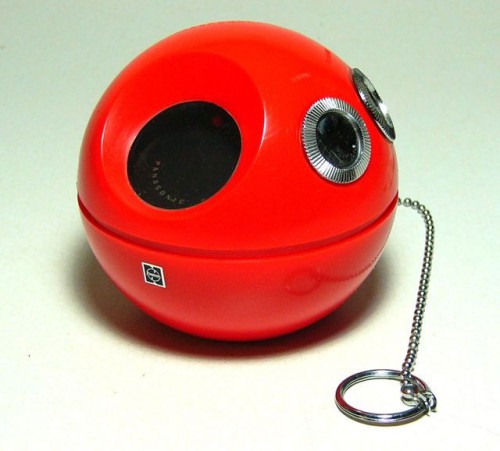 I would turn the volume up and dance madly in the back yard. My most vivid memory is of cranking up Billy Preston's Go Round in Circles and dancing on top of the old wooden picnic table. So not safe, I'm sure, even if you weren't dancing yourself dizzy goin' round in circles. Ahh, those were the days, though.
http://www.youtube.com/watch?v=un63LEAN22E&noredirect=1
Image Credits: Vintage 1970 Just Pants ad via Ads-Things4Less. Panasonic photo via ebyauctions
.