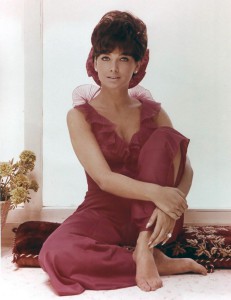 This photo of Suzanne Pleshette reminds me of my dad.
My dad had a thing for Suzanne. He also had a lusty crush on Susan Anton. We used to tease him maybe variations on "Sue" was his real "thing." *wink*
As a young girl, and then a young woman, those two women were so disparate… And neither resembled my mother.
…Well, maybe my mother was a bustier Pleshette, with a more dulcet voice.
But anyway, my point is, my daddy taught me early on that men can be attracted, simultaneously, to many things about women — that there wasn't necessarily a "type," either for one man or mankind. That's the sort of thing a woman needs to know. And it doesn't hurt to know that such crushes or affections do nothing to demean or diminish the loving and lusty committed relationship one's in, either.
I was reminded, again, just how important dads are to girls when hubby and I helped dad run his booths selling antiques at Cedarburg Maxwell Street Days this past weekend. Dad's sort of got a carnival-barker-meets-stand-up-comic style to his manning of his booths. (Another thing I've picked up from Dad!) One woman, drawn in by Dad's quick wit, was instantly charmed — not only by my dad, but by my relationship with him.
"It's clear you love your dad," she said. Tears formed in her eyes — and mine — when she said, "I lost my dad 26 years ago… Dads are so important in their daughters' lives…"
Damn right they are.
So here's to you, Dad. Enjoy Ms. Pleshette. Thanks for being you.
Forever indebted,
your daughter