I found this Bert Stern photo of Kecia Nyman at Magdorable! — and fell in love with these glasses from 1965!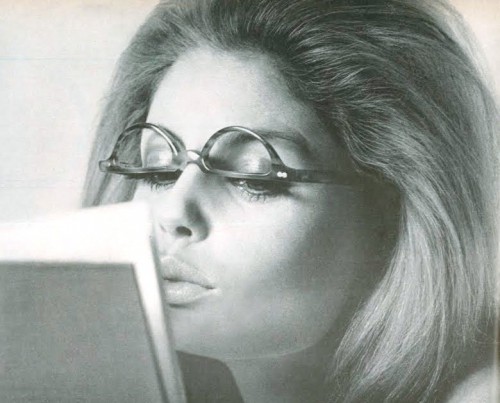 I've not been able to find anything like them, but I did find another scan of that Vogue issue (July 1965) which states the following:
More spectacles on the half-shell — with a switch that's new to our eyes

…Worked out for the nearsighted, these clear the field of vision for all close work — reading, writing, gros- or petipoint — but provide quick accommodation for the distant objects that call for optical help.
They look upside down, but they're not! And more than purely stylish, they solve problems; they're like the reverse of the classic cheater readers.
I want — nay, I need a pair of these!
The article states that the frames are from the Fashion Eyewear Group of America. If you can help me find a pair, let me know!