A link round-up of what I've been reading and writing — not all of it, just the stuff I think you Kitsch Slapped readers might like.
What I've been writing: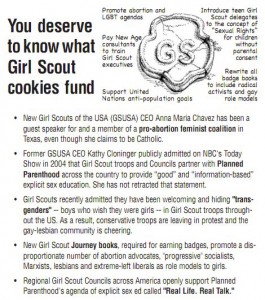 I wrote about the Girl Scouts celebrating 100 years, which reminds me of this graphic some anti-Girl-Scout, control-all-the-wombs, misogynistic self loathing person made. It's supposed to make me not buy the cookies. But in fact, had me double my order this year. My hips can totally carry the extra weight; I can't bear any more attacks on women and women's rights.
I'm talking about celebrity deaths in terms of capitalism, collecting, and class.
Silent film fans, those who like to collect vintage beauty items, and those who like to consider beauty pageants and/or gender issues may be interested in Of Valentino, Mineralava Beauty Pageants & Pink Powder Puffs.
And I'm back at Collectors Quest, so check out my columns.
What I've been reading:
Big busted women talking about bra minimizers and breast reduction surgery; myth and bra busting with facts and insights.
Victorian sex tips, for men and women. It may or may not all be true; but it's amusing in a twisted sort of a way.
Some facts and collecting tips on Rudi Gernreich's No-Bra Bra (for Exquisite Form).
The strange and intriguing tale of the "tits tee" begins here, folks!
This I actually read in hard copy — belatedly. Having grabbed a copy in November when I was seeing family for the holiday, the paper remained tucked inside my suitcase until I got home and after unpacking it, plopped it onto the magazine pile. Anyway, it's still a fabulous read: Daughter Thinks It's Time To Have Sex Talk With Parents.