EBay seller LadiesOnFilm carries a large number of vintage risque and nude images from publishers of adult magazines
from the 60's through the 90's. It's rather clear that many of them are the unused outtakes; but then, I guess "outtakes" are in the mind of the viewer.
It's funny how often the "bad" pictures seem more natural than the "good" pictures. I find this photo of Carol Newell (by Ron Vogel, 1968) charming. It's how a woman sits on the stairs, relaxed, not worrying about the planes of her face and the contours of her body… There's no arching of her back while pointing her toes. That's how the real girl next door sits.
The women struggle to look natural in odd poses. While the props are often dated and hysterical, it's the desperate poses for the sake of sexual puns which are far funnier. I can just hear the photographer saying, "That's it, that's it, baby. Now just crawl along the floor and choke that plaster snake statue…"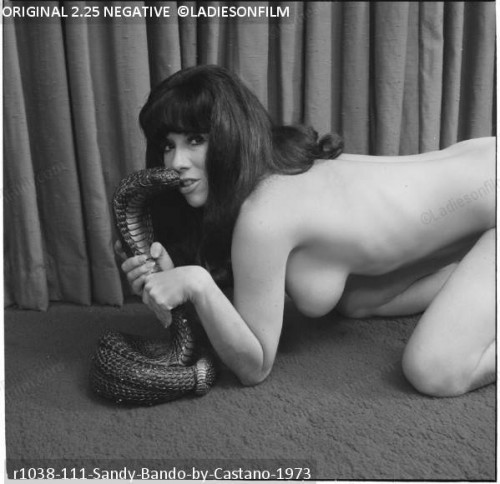 I'm not saying that no simply nude woman has ever taken a bad photo, but they are far more beautiful than those photographs which overreach — either in physicality or in attempts at innuendo.