At the Picture Collection and Periodicals Collection at the Visual Arts Library blog, a post featuring some materials from a "Gangs, Cults & The Occult" folder. Among the most interesting to me (at least at the moment), was this one: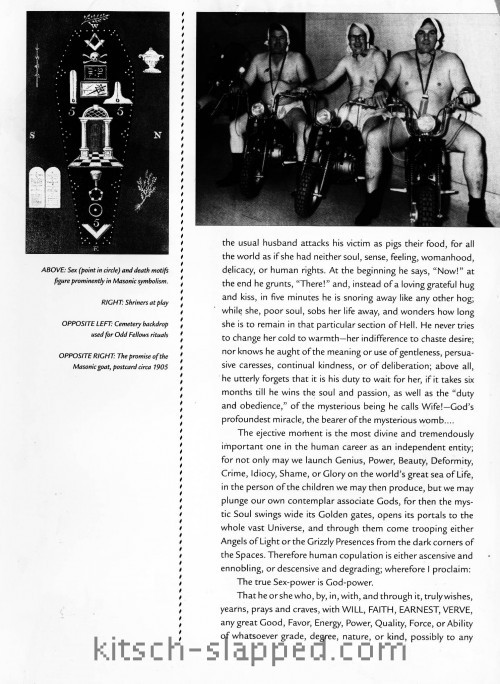 Below the "Shriners at play", there is an intriguing passage from what appears to be a work by Paschal Beverly Randolph. Randolph was, among other things, a medical doctor, occultist, and writer who is often noted as the man to bring the principles of sex magic to North America. Since this about secret societies, Randolph is also said to have established the earliest known Rosicrucian order in the United States and to been a member of the Hermetic Brotherhood of Light. But it is the sex magic which seems to stand out here. If this is by Randolph, the full passage, circa mid-1800s, would then read:
The average husband's wife is full of aches, pains, wrinkles, gray hair, fallen womb, [lencorrhae]; and a good many of them are nicely inoculated with syphilis by their lords, and the doctors hide it, and their ignorance too, and call it "Fluor Albus;" besides which, the usual husband attacks his victim as pigs their food, for all the world as if she had neither soul, sense, feeling, womanhood, delicacy, or human rights. At the beginning he says, "Now!" at the end he grunts, "There!" and, instead of a loving, grateful hug and kiss, in five minutes he is snoring away like any other hog; while she, poor soul, sobs her life away, and wonders how long she is to remain in that particular section of Hell. He never tries to change her cold to warmth—her indifferences to chaste desire; nor knows he aught of the meaning of use of gentleness, persuasive caresses, continual kindness, or of deliberation; above all, he utterly forgets that it is his duty to wait for her, if it takes six months, till he wins the soul and passion, as well as the "duty and obedience," of the mysterious being he calls Wife!—God's profoundest miracle, the bearer of the mysterious womb.
For the record, the image on the opposite page shows a Masonic piece featuring "sex (point in circle) and death motifs" said to "figure prominently in Masonic symbolism".