When Alyssa Milano was on The Late Late Show last December, she told Craig Ferguson (and all of us watching), that her grandfather said there were two types of people: those who think farts are funny, and those who don't. Clearly Milano does, because she spent quite a bit of time farting around with Ferguson.
http://youtu.be/rorDThdVodA
Whether or not Milano's grandfather was right about there being just those two groups of people in the world, it's clear that Mozart was a man into fart humor. Yes, that Mozart.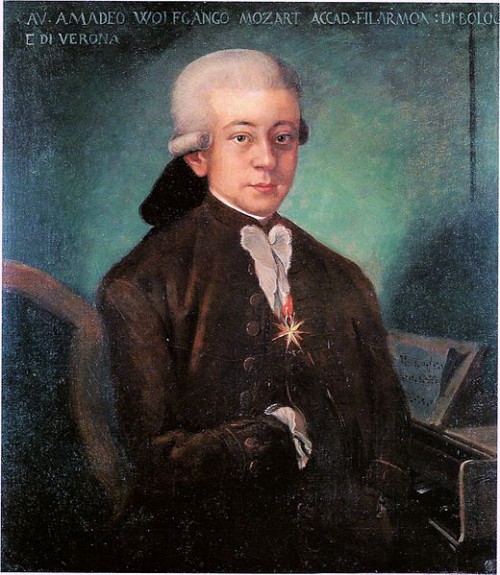 The proof of poof-amusement comes from (at least) one of 12 letters Wolfgang Amadeus Mozart wrote to his female cousin, Maria Anna Thekla Mozart. These letters, written between 1777 and 1781, are included in Robert Spaethling's book. And they contain passages which Lapham's Quarterly calls "alliterative and obscene". It is in this letter that we find Wolfgang going well-past a love of all things musical into TMI territory. In fact, this might be the first reference to a shart — it's certainly the earliest I've ever read.
You write further, indeed you let it all out, you expose yourself, you let yourself be heard, you give me notice, you declare yourself, you indicate to me, you bring me the news, you announce onto me, you state in broad daylight, you demand, you desire, you wish, you want, you like, you command that I, too, should could send you my portrait. Eh bien, I shall mail fail it for sure. Oui, by the love of my skin, I shit on your nose, so it runs down your chin.I now wish you a good night, shit in your bed with all your might, sleep with peace on your mind, and try to kiss your own behind; I now go off to never-never land and sleep as much as I can stand. Tomorrow we'll speak freak sensubly with each other. Things I must you tell a lot of, believe it you hardly can, but hear tomorrow it already will you, be well in the meantime. Oh my ass burns like fire! What on earth is the meaning of this!—maybe muck wants to come out? Yes, yes, muck, I know you, see you, taste you—and—what's this—is it possible? Ye Gods!—Oh ear of mine, are you deceiving me?

Now I must relate to you a sad story that happened just this minute. As I'm in the middle of my best writing, I hear a noise in the street. I stop writing—get up, go to the window— and—the noise is gone—I sit down again, start writing once more—I have barely written ten words when I hear the noise again—I rise—but as I rise, I can still hear something but very faint—it smells like something burning—wherever I go it stinks, when I look out the window, the smell goes away, when I turn my head back to the room, the smell comes back—finally my mama says to me: I bet you let one go?—I don't think so, Mama. Yes, yes, I'm quite certain. I put it to the test, stick my finger in my ass, then put it to my nose, and—ecce provatum est! Mama was right!
Clearly not all classical musicians are as, errm, stuffy as you might think.
Image via Wikipedia.