These guys (&/or gals) aren't "new," but they might be about to get a new name. Grrl Scientist reports that Dr. Michael Linden, a German psychiatrist, wants to get a new diagnosable and treatable mental health disorder listed in the Diagnostic and Statistical Manual of Mental Disorders (DSM) — the "bible" of mental health.
Named Post-Traumatic Embitterment Disorder (PTED), Dr. Linden notes that PTED is similar to Post-Traumatic Stress Disorder (PTSD), where mentally healthy people are functioning fine — until a triggering event destroys their core values and shatters their basic beliefs, and folks with PTED feel wronged, humiliated and that some injustice has been done to them.
"Embitterment is a violation of basic beliefs," Dr. Linden explains. "It causes a very severe emotional reaction. We are always coping with negative life events. It's the reaction that varies."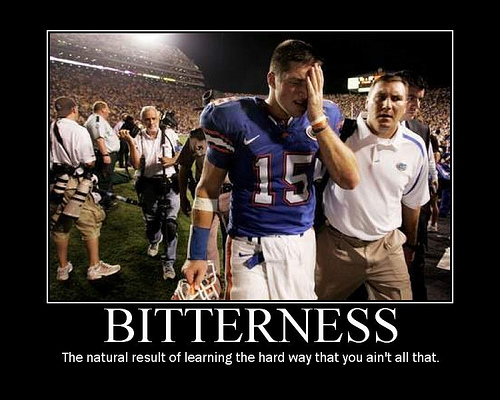 Perhaps the most dangerous thing here is the externalization. For while these people suffer from major depression, dysthymia, and anxiety disorders, these people do not feel there is anything wrong with them — at least not anything they can (or should have to fix). Again, according to Grrl Scientist:
"These people don't have the feeling that they must change, but rather have the idea that the world should change or the oppressor should change, so they don't ask for treatment," Dr. Linden points out. "They are almost treatment resistant. Revenge is not a treatment."

…Dr. Linden suggested that loving, normal individuals who suddenly snap, killing either their family or coworkers and then themselves may actually be suffering from post-traumatic embitterment syndrome.
In many ways, all of this sounds like every abusive, controlling, person I've ever met. Continually managing "what others do" rather than focusing on what they can do themselves — as dismissing the rest.
I would be very interested in learning more about PTED… Meanwhile, girls and boys, be very concerned if you have these people in your lives. Perhaps getting this disorder recognized will be helpful in getting these people the treatment they need — and making relationships safer in general.
Image via.