This is either called Fuckface the Fucknificent or You & Your Ugly Heart by Collin David, who I just interviewed here.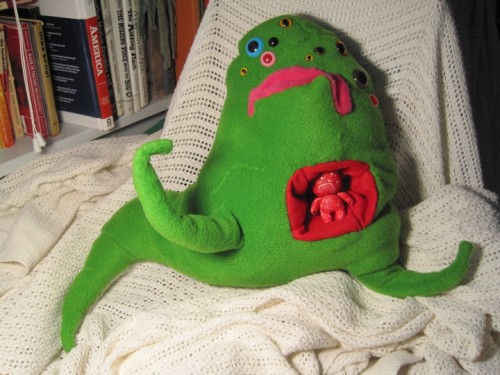 You didn't think I'd ignore you today, did you my lovelies? Of course not. Real friends don't ignore their friends just because they are one part of a couple, and years of being alone on Valentine's Day, my birthday, and other holidays has left me ever-sensitive to the needs of my single friends on such days.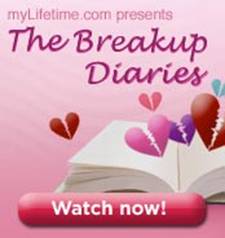 The folks at Lifetime also must have spent a few holidays alone because they've put together a collection of 13 "worst breakup stories" — two-minute videos of women (and a few men) telling their once-heartbreaking-now-funny breakup stories. The series, called The Breakup Diaries, has classics — and some scenarios that might make Paul Simon want to revise the count in 50 Ways to Leave Your Lover.
One of my favorites is the story of Beth's break up — it involves maple syrup, but that doesn't make the story any sweeter. Her story combines three of the classics: The No-Show, The Walk-In-On, and He Comes Bearing Gifts.
Lauren's story involves "Shmen" making — and sharing with her — a list of reasons why he was breaking up with her. This one is probably my favorite one. Not just because it's funny, but because Lauren found the silver lining, which is what we all need to do when we've lost a lover.
Reassured by Lauren's story and remaining ever hopeful, you will now download the free Let's Get It On by Marvin Gaye MP3 from Amazon. You can mock its smarmy sex-fest mentality with your bitterness today, and then save it for play again on another day when you've got a partner to groove in the bedroom with. And yes, dear, that day will come.
Sonia ponders her breakup and discovers that while it may be hard to do, the light at the end of the tunnel just might be her glorious self:
I am analyzing my relationships again. I am free from being in love with m, and my heart is flung open like a door to everything and everyone around me. It's astounding how I was so unhappy for what seemed to be forever, now the days just pass me by. There aren't enough hours in the day it seems. Every second is so pleasurable and I treasure every moment. I told myself that new years eve would be the last day for me to think about m in a loving manner- miss him, miss what we had, and I had to be done with it. I awoke new years day feeling like maybe it wasn't real. A few days passed, and it became a reality. Those feelings were gone. I wanted with all of my heart for those feelings to pass and they did. Mind over matter. Putting good vibes out into the universe has finally paid off for me and I am the real me again. Looking back on the past year, I really do not know how I did it. Every day seemed like an absolute struggle, and I dreaded what the next day had in store for me. I felt so hopeless at times, but knew that life is so much better than that. I believed. Bad things happened, and I went on with my life. I opened myself up to change, and opened myself up again to being vulnerable to people, and allowing myself to love regardless of the consequences. It wasn't nearly as difficult as it seemed. My life is considerably different than it was just 5 short months ago.