This is either called Fuckface the Fucknificent or You & Your Ugly Heart by Collin David, who I just interviewed here.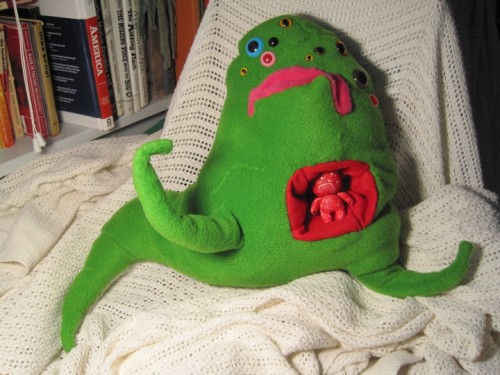 Sonia ponders her breakup and discovers that while it may be hard to do, the light at the end of the tunnel just might be her glorious self:
I am analyzing my relationships again. I am free from being in love with m, and my heart is flung open like a door to everything and everyone around me. It's astounding how I was so unhappy for what seemed to be forever, now the days just pass me by. There aren't enough hours in the day it seems. Every second is so pleasurable and I treasure every moment. I told myself that new years eve would be the last day for me to think about m in a loving manner- miss him, miss what we had, and I had to be done with it. I awoke new years day feeling like maybe it wasn't real. A few days passed, and it became a reality. Those feelings were gone. I wanted with all of my heart for those feelings to pass and they did. Mind over matter. Putting good vibes out into the universe has finally paid off for me and I am the real me again. Looking back on the past year, I really do not know how I did it. Every day seemed like an absolute struggle, and I dreaded what the next day had in store for me. I felt so hopeless at times, but knew that life is so much better than that. I believed. Bad things happened, and I went on with my life. I opened myself up to change, and opened myself up again to being vulnerable to people, and allowing myself to love regardless of the consequences. It wasn't nearly as difficult as it seemed. My life is considerably different than it was just 5 short months ago.
Did you know there was a Museum of Broken Relationships? Me neither.
The museum, founded in Croatia, was an art concept by Olinka Vištica and Drazen Grubišić who decided to set up the museum dedicated to broken hearts after consoling friends over their failed romances.
The Museum of Broken Relationships is an art concept which proceeds from the assumption that objects possess integrated fields – holograms of memories and emotions – and intends with its layout to create a space of secure memory or protected remembrance in order to preserve the material and nonmaterial heritage of broken relationships.

Unlike the destructive self-help instructions for recovery from failed loves, the Museum offers every individual the chance to overcome the emotional collapse through creation, i.e., by contributing to the holdings of the Museum. The individual gets rid of controversial objects , triggers of momentarily undesirable emotions, by turning them into museum exhibits, i.e., artefacts and thereby participating in the creation of a preserved collective emotional history.
One of the most interesting & unusual object in the museum is this prosthetic limb:
In a Zagreb hospital I met a beautiful, young and ambitious social worker from the Ministry of Defense. When she helped me to get certain materials, which I, as a war invalid, needed for my under-knee prosthesis, the love was born. The prosthesis endured longer than our love. It was made of better material!