Any of these old beauty gadgets or quack medical items draws my interest — but when an electrical item demands you make the pads which attach to wires wet, well, I'm in love!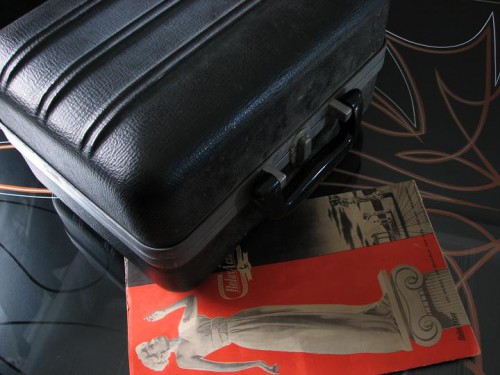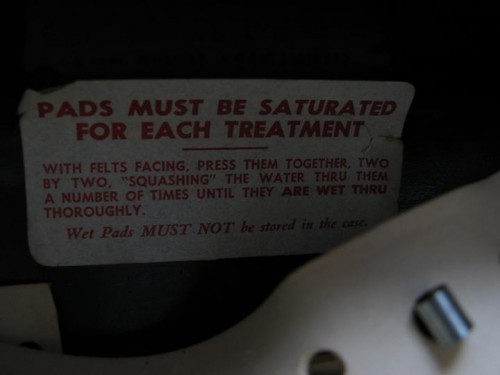 I'd love to own this not-so-little gem, but it's beyond my budget. *pout* Here's an awesome description from the seller:
The Relax-A-Cizor is an Electrical Muscle Stimulator. They date from the late 1940's to the early 1970's, and sold for $200- $400.
It claims to reduce girth by giving electric shocks to the muscles. Wet pads are strapped or placed on the body, attached by cords to a power source.
Pads can be placed on the stomach, thighs, arms, etc., even the face. Then you just lie there and electric shock yourself into a fabulous figure, yay!
Sounds scary, huh?

In 1971 the FDA declared the Relax-A Cizor to be dangerous, causing or aggravating medical conditions.

This is after selling thousands of units for decades!

The FDA ordered the destruction of units, or for them to be made inoperable. They also banned the resale of already purchased units. So, given all that information, this auction is for the purpose of Collecting Medical Quackery Items only. This Relax-A-Cizor is not being sold as an excercise or fitness machine.

This auction contains:
the original hard case
electrical console with dials, toggle, and inputs
The original instructions
6 disks with pads
face pads and strap
chest pads and vest
extra straps
chin pad
cords

The instructions have gorgeous drawings of statue like women, some naked, I love the art, fabulous! There are photographs of pad placement in these instructions, including some nudity.

The funniest thing about the instructions (in my opinion), is the lack of warnings. In fact, the only warning is to NOT store wet pads in the box. The only other warnings are to make sure to lie down, and to get the pads thoroughly wet, nothing about being shocked!

This is a true medical oddity.

This Relax-A-Cizor is in excellent condition. The pads and straps have some discoloration from use, age, and storage. I'm not sure if this unit is complete, there is no item list. The paper instructions are in excellent condition, there is a hand written note taped to the inside. The case is in excellent condition.
I do not know if the unit works or not. There is some broken and burnt looking ends on the wires.
I soooo NEED this!
Images and description via Strange Vintage
.