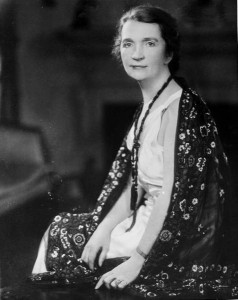 In Margaret Sanger in Context, Tracey McCormick defends the vilified Margaret Sanger. Sanger, who founded Planned Parenthood and advocated for planned parenting & birth control before women even had the right to vote, is often misquoted or quoted out of context.
McCormick takes up defense of Sanger against New Jersey Congressman Christopher Smith's quoting of Sanger from Sanger's book, Woman and the New Race (1920): "The most merciful things a family does for one of its infant members is to kill it."
This is McCormick's response:
The line in question comes from Chapter 5, "The Wickedness of Creating Large Families." Upon closer inspection, we see that Congressman Smith has left out the word "large" before family.

…But what if we read the entire paragraph or even the whole chapter?
…Apparently she hated miner families. Excessive childbirth in these families caused ill health in mothers, financial hardship to fathers, and I'll quote directly for its effect on the children: "In the United States, some 300,000 children under one year of age die each twelve months. Approximately ninety per cent of these deaths are directly or indirectly due to malnutrition, to other diseased conditions resulting from poverty, or to excessive childbearing by the mother.

To demonstrate her hate, Sanger provides us mortality statistics of miner children, quotes a study by Arthur Geissler, which was later cited by Dr. Alfred Ploetz before the First International Eugenic Congress. (Eugenics is a scary word; if we took it out of context we'd realize that that's what Hitler was up to. And if we practiced some really sloppy thinking, we'd say Sanger = Hitler. But we're much smarter than that.)

To return to the statistics of children surviving through their first year. The first five children of these large miner families had about a 75% survival rate. The sixth-, seventh- and eighth-born approach a 70% survival rate. The eighth and ninth, about a 65% chance. The tenth, 60%; the eleventh, 50%; and the twelfth, 40%.

Five sentences later, Sanger drops her bomb: "The most merciful thing that the large family does to one of its infant members is to kill it."

I didn't know the woman personally, but I don't think Sanger was a proponent of infanticide: I think she was trying to say and do something about the infant mortality rate. But you shouldn't believe me. This is, after all, nothing more than a 750-word soundbite.

For context, you can read the entire chapter here.

For more-more context, the entire book, Woman and the New Race, is available here.

If you have four hours to spare, you can watch the entire hearing, "New Beginnings: Foreign Policy Priorities in the Obama Administration," here. (Thanks, C-Span!)

Then, you'll have context of Sanger and her relationship to "New Beginnings.
I applaud McCormick for taking up the fight here — both in terms of Sanger specifically and the issue of context in general. But one thing is missing from this conversation: The subject of eugenics itself.
The word "eugenics" has become an ugly thing, and rightfully so; but it too has its own context which must be understood. Understanding the context & origins of eugenics is key not only to understanding Sanger (and others), but its lessons are the epitome of the cornerstone of studying history: So that we do not repeat it.
Eugenics should not be simply or only equated with racism or even a scientific excuse for racism; that fine institution, racism, had already been in long practice. Eugenics has been around since the dawn of man; ancient societies, of all races, practiced infanticide for such purposes and Plato advocated that human reproduction should be monitored and controlled by the state. At the root of eugenics is a drive to improve human genetic qualities, better sustain the species, which includes everything from prenatal care for mothers to euthanasia.
But, yeah; racism sure was a part of eugenics for many.
American eugenics, as we speak of it here (referring to movements and social policies), was born in a post Civil War world where rapid growth of industrialization (including the increased mechanization of agriculture) created the first major migration away from farms, including former slaves. At the dawn of the Industrial Revolution there were a plethora of problems from such rapid urban growth. Cities were unable to keep up with the increasing populations; the exploitation of labor created militant labor organizations; swings in prices bankrupted many businesses — all of this led, in 1873, to a series of depressions which occurred roughly every decade through the early 1900s.
The depressions further fueled labor & over population issues, which were then additionally burdened by huge waves of immigrants (especially from southern and eastern Europe), which peaked just before World War I (and again after the war too). Then, as today, many Americans began to resent immigrants "stealing" their jobs, their housing, and even their spots in charity programs.
At first, "the poor" and the social & economic problems were, philosophically and physically (via social work, charity organizations, churches, etc.), addressed by Social Darwinism, the application (if not perversion) of Charles Darwin's biological theory. While Darwin himself did not extend his theories to either social or economic levels, many educated people believed that "survival of the fittest" applied to (and therefore could be used to explain as well as manipulate) social and economic inequalities. But the irony was that the wealthy & powerful, "the fittest," were endangered. Not only were the working class and the poverty stricken organizing themselves against the wealthy, but a declining birthrate among the captains of industry meant that the lower classes were out-reproducing them too.
Enter progressivism.
Progressive reformers believe(d) in the increased role of government to manage & plan for economic and social issues. Beneath working for the passage of legislation advancing the rights of the newly freed slaves; the establishment of labor unions, child-labor protections, & minimum wage laws; conservation of natural resources; direct elections in primaries, fairer taxation, & control of lobbyists; legislation to control monopolies, banking reform, & trust-busting; and working for women's suffrage, lay science. (And a managerial class of educated experts capable of long-range planning.)
It didn't take much for progressive reformers to convert inventive Americans to a strong faith in science as the way to address the problems plaguing the country. This opened the door, using the new science of genetics to spawn an even newer science of social engineering — eugenics. If genetics held the key to such things as alcoholism, criminality, "feeble-mindedness," and poverty, eugenicists argued, society, who paid a high price caring for such individuals and their issues, should invest in the knowledge & planning to ensure a better genetic America.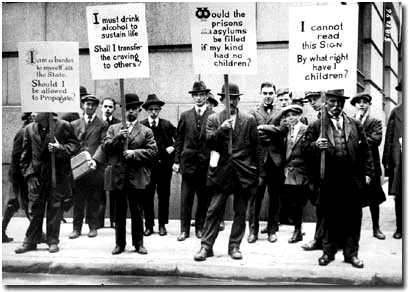 Some went as far as to say that sterilization of one "defective" adult could save society thousands of dollars over future generations. So when researchers became interested in the heritability of such illnesses as schizophrenia, bipolar disorder, and depression, the findings of their studies were used by the eugenics movement as proof of its legitimacy, prompting state laws prohibiting marriages for and forced sterilization of the mentally ill in order to prevent the "passing on" of mental illness to the next generation. (These laws were upheld by the U.S. Supreme Court as recently as 1927 and were not abolished until the mid-20th century.)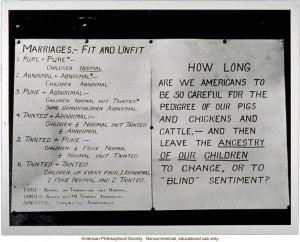 Now remember the afore mentioned context; not only were social & economic issues a matter of The Haves & The Have Nots, but great tension arose from the fears of going from the former to the latter. The power of labor unions & the rise of the American socialist party combined with world events such as the successful Bolshevik Revolution, increased these fears, inspiring the wealthy to support eugenics. As today, funding for research & media meant that the wealthy could steer, if not actually dictate, the work of eugenicists. The repugnance for class struggles and political radicalism certainly figured into eugenics, resulting in selective immigration restriction.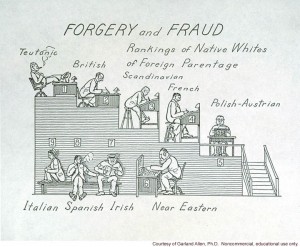 In short, eugenics put such a focus on defective genes, individuals, and ethnic groups that it removed the focus from all the problems of the structure of American society itself. And the copious amounts of "scientific evidence" for eugenics being the rational and efficient plan for a harmonious future allowed the wealthiest in society to feel justified in blaming & controlling the victims.
I won't go so far as to say that Margret Sanger was only philosophically identified with eugenics from the point of view of individual families using birth control to combat their economic & societal problems; there's too much evidence that Sanger was into eugenics far deeper (& dirtier) than that. (While her work with The Negro Project & her acceptance of invitations to speak to women in the KKK remain controversial, there's no arguing that Sanger was an eugenicist, including a proponent of using immigration laws to keep out those with "objectionable traits".) I'm not even saying we should forgive & forget Sanger's association eugenics because it gave us birth control. I'm saying we have to look at the context of the times — societal issues & individual concerns, education & prevailing science, fears & beliefs. And it's clear that for a century, from the mid-1800's through the mid-1900's, eugenics was a huge part of the culture. So I think we should if not forgive, then at least not entirely condemn; but we certainly should not forget — not to be kind, but to see… To not dismiss. As Garland E. Allen wrote:

The problem with demonizing the older American eugenicists (many of whom thought they were taking the most modern, scientific and progressive approach to social problems) is that we distance ourselves from them and so can easily fall prey to our own biases today.
Margaret Sanger was not perfect. But looking at her life & work in context we are able to admire what is valid and also learn to accept the warnings we must heed about what is not valid.