Today, June 21st, is my birthday; I turn 50. I feel pretty much the same way I did when I wrote this two years ago, "A lifetime of so little progress is just too much."; only more so. *sigh*
I was born on June 21, 1964; I joined this world, as Michael Schwerner, Andrew Goodman and James Chaney left it. My mother's screams may have been dulled by the twilight sleep of that time's hospital deliveries, but I passed through the same veil, entered the ether echoing with the agony, pain, and fear of those men, their families and friends, and all who possess any shred of humanity… And I have lived in a country filled with those sounds and the stink of racism ever since.
On Thursday, Rachel Maddow drove this one of the points home — like a dagger in my heart.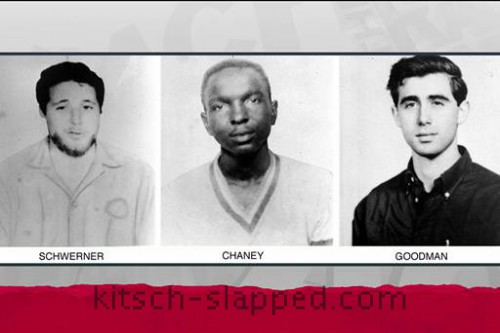 In honor of the three American Heroes who gave their lives that Freedom Summer, which most decidedly lead to the Voting Rights Act of 1965 — which was struck down by the Supreme Court last summer, spawning lots of laws to suppress voting, the show went to James Chaney's grave to show if times have really changed beneath the PC surface. It was disturbing, to say the least. Watch it. Do it as a birthday gift to me.
Recently, my sister mentioned, "What's wrong with voter ID?" and, out of respect for not ruining some rare extended family time, I just sighed and said, "This conversation won't end without an argument, so let's not discuss this…" Maybe she will read this.