An ad for Black & White Blended Scotch Whisky featuring a Scottie and a Westie, found in the July, 1974, issue of Psychology Today (I shared an article on political activism from the issue here, and sent scans of article pages on nuclear families to Shawnee too).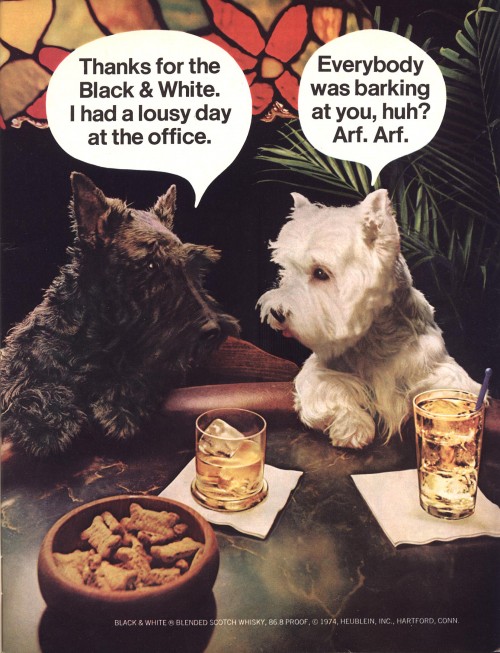 I don't think dogs should drink whisky. Even if the dog treats are healthy.
But these dogs are less worrisome than the bulldogs mentioned in the latest T-Mobile commercial. Have you seen it? The grumpy guy is complaining that he doesn't like commitment, so the wife says, "We've been married 40 years." He retorts it's only been 38. And that he doesn't like sticking with the same thing, to which the wife replies, "We've had 11 bulldogs, all named Steve." What the hell are they doing to their dogs?!
I'm no math geek, but that's like what, 3 years per dog?
I could get a calculator & do the math, but I keep loosing my calculator. I should have saved one of those giant calculators I sent out for Valentine's Day for myself.
I'm not exaggerating; the calculators were huge. I knew you wouldn't believe me, so I took pictures. See, just one is the size of my Cairn Terrier (named Toodles Squirrel-Face Davidson III).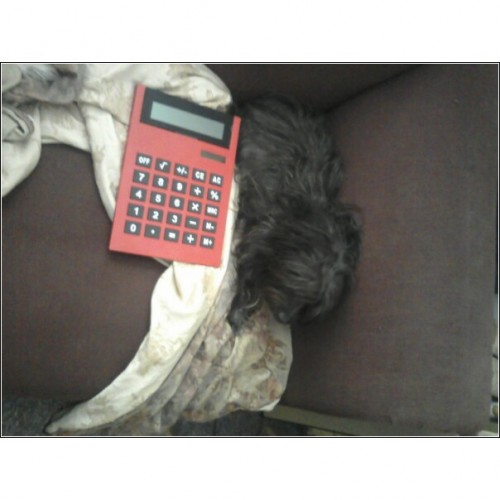 I gave them to folks double-dog-daring them to lose them. They even can be hung on the wall. (Just $3.99 each at Hobby Lobby — because you know I love the Hobby Lobby.)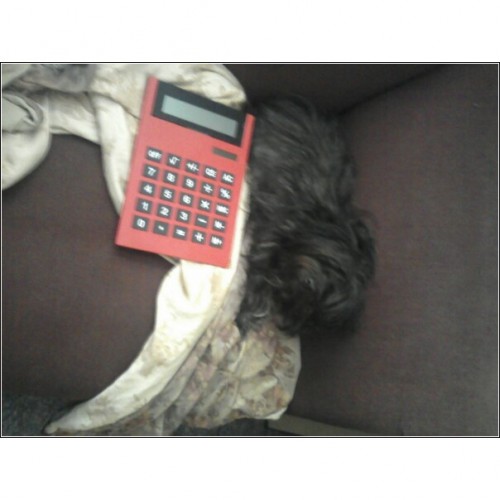 Huh. I guess I just made my own ad featuring a dog.  But my dog wasn't drunk.  And she's well over 3 years old too.