I have a mild interest in the Johnny West toys by Louis Marx & Co.. Like so many retro toys, it's really rare to find them with their original boxes; so when I saw Jane West with her box in a display case at a local antique mall I had to take a closer look…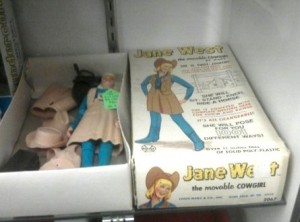 Is it just me, or does the wording on the box, "Jane West The Movable Cowgirl" and "She Will Pose For You 1001 Different Ways", sound erotic?
Hubby says it's just that Marx marketed their toys differently than most. They weren't dolls and they weren't action figures. What he said next rather removed them from the toys category too: "If Marx were making things today, they'd be seen as made for the collector market." So, if they aren't for kids to play with, they're adult toys.
Which intriguingly brings me back to Jane "posing for me" in 1001 ways…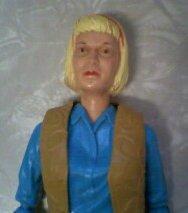 Johnny West may have been a fighter, but he was a lover too. At least my Johnny was (and I couldn't have been the only one doing this) so I know from personal experience of playing with Jane and Johnny that many of the poses were most unnatural. So many joints on Jane provide a flexibility that Jenna Jameson would envy.
Maybe that's why there were so few female figures made by Marx… If you've got one bendy cow girl willing to pose for you in so many ways, why bother with another? Sure her face wasn't real pretty, but how many of the poses meant you actually had to look at it?
Besides, one bendy chick — with blonde hair yet! — was already luring too many of those Indians.