A relatively recent 50 cent thrift store grab, a paperback copy of The Homicidal Virgin; cover illustration by Robert McGinnis.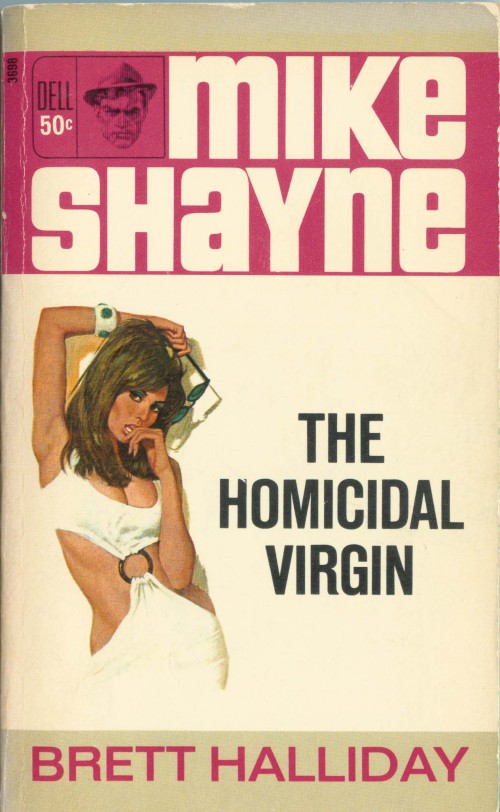 The Homicidal Virgin is, like all the Mike Shayne works, one of those classic gumshoe detective stories. Now, as far as "classic gumshoe fiction" goes, it's a fairly predictable genre. That's not to say the story endings are always seen a mile away (or before you finish reading the wraps), but, like most all pulp fiction works, it's a rather formulaic genre — and it's a slam-dunk that the detective will get his man along with his woman. (And should the perp be a woman, well, the lucky detective gets two women.)
As an avid reader, I avoided most works in this genre, along with the related "romance novels" for many years. But after collecting vintage pulp novels & retro paperbacks for their covers, I began to become interested in what lay beneath the art. After reading a few, I found that these vintage and retro works can be like Twinkies: something sweet & quick to enjoy between real sustenance. And that too many (or one bad one) can hurt your teeth (from excessive grinding) &/or give you a giddy giggly high. Anyway, every now and then, I grab a pulp off the shelf and read it.
The Homicidal Virgin beckons with sex. From the back cover:
LOST INNOCENCE

Mike Shayne had been in hotel bedrooms with beautiful girls before, but this time it was different. This girl was different. She didn't smoke, didn't drink and she blushed.

Unfortunately, she was too good to be true. But Mike didn't realize this until later, after she lowered her eyelids and softly confessed her one little vice — murder.
As if that tease wouldn't lure in the usual male readership, the front teaser page promises even more…
SHAYNE WATCHED THE TWO WOMEN AT THE BAR

One was seated on the last stool against the wall. She wore a low-necked ruby-red dress and tinted Harlequin glasses that effectively concealed her eyes, but Shayne could still feel her piercing gaze.

The other had just arrived. She seemed too young to be dropping into a cocktail lounge alone. Not yet twenty, Shayne thought, with a virginal and appealing look of timidity about her.

They both wanted to talk to detective Shayne. Ruby-Red Dress had a difficult-to-believe story of a missing husband; Miss Virgin, and even more harrowing tale of sexual depravity. And the strange thing was, both stories were connected — with utter improbabilities.

Right at the moment, Shayne didn't know which woman he had more faith in. It was almost impossible to believe that both of them had been speaking the whole truth and nothing but the truth all the way through.
As a sophisticated woman of 2009, I find the sexual stereotypes laughable. But then again, this fictional world of laughable gender roles is far preferable to the confusing oppression of the real world — of the 60's or today. I daresay that it's done purposefully to be somewhat comical in the man's-man tone. (It is certainly benign — no action, and less heaving bosoms than a Harlequin novel.) So why not float in it, go with the current? Especially when you know that the book isn't going to live up to all that pseudo sexual tension. Hell, it downright misleads with the situational placement of the women (they do not both appear in the bar to tell their stories near simultaneously). But I guess as a teaser, it works for the typical audience.
As for the rest of the plot, once you get past the simplistic sexual stereotypes, it's believable enough. And the ending is definitely not predictable. (But the end is far too quick-wrap-up, with Shayne giving a "and that's that" dust-off of his hands.) So as far as a detective mystery goes, it's a-OK.
Other than the gender stereotypes, references to sedans and coupes (car terms you know but are hardly used today), there is only one other way the novel is dated. And that's on page 18, where an "attractive colored girl" is seen down the hotel hallway, refreshingly juxtaposed with the "chubby cheeked" bag boy with a "long sharp nose" whose color is not mentioned (and so presumed colorless — or "white"), and so we've skipped at least a "Yessum!" stereotype of the black bag boy.
Given how sexist the rest of the book is, I was, after resettling my hackles from the "colored girl" reference, rather pleasantly surprised.
If one can forgive the brief appearance of antiquated race terms (and subtle racism created by the omission of other black characters) and laugh at the portrayal of Mike & his "babes", it's a sound little Twinkie of a read.
***
The Homicidal Virgin, a Mike Shayne Mystery, is credited as written by Brett Halliday, originally a pen name of Davis Dresser. I have the 1967 "New Edition" published by Dell — the original is copyrighted 1960 — but the novel was not written by Dresser because Dresser gave up writing the Shayne novels in 1958. (Bookish types can find out more about ghost writers, film & television etc. at ThrillingDectective.com.)
You can find more Mike Shayne covers by McGinnis here.