This snippet on page five in Wives Legal Rights, by Richard T. Gallen (Dell Purse Book, 1965), breaks my heart. Not just because it's about what we'd now call domestic violence which "may be" pursued as a crime, but because while the publication is over 40 years old, the cultural lag is so much further behind.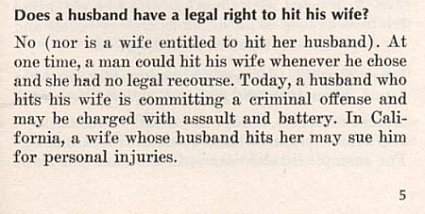 You see, I'm a survivor of domestic violence. Times two. I'm not proud to say that I've lived it twice; but it's important to know because once the abuse damages your world, you may be even more susceptible in the future. This is contrary to what most would call "common sense" or even a natural human instinct to survive by avoiding the warning signs (should there actually be any prior to being in the middle of the madness), but it's the truth.
I'll be posting a lot more about domestic violence… I hope sharing my experiences not only educate and support others living it — or even provide a means to strengthen my own voice on a subject I've long been afraid to speak of outside of court rooms and therapist offices — but that talking about this serves as a catalyst for awareness and change from the rest of the world who feels they are exempt for the blight. Whether they know it or not, they are part of the problem.
And yes, if that feels accusatory, like I'm pointing a finger at you, I am. Too many people are locking their doors and windows under the mistaken assumption that they are then safe (which is so not what the numbers say). And when they do so, they lock out the realities, putting themselves and their children at risk as well as perpetuating the myths and, by placing judgments on those involved (including the victims), they further allow domestic violence to live — not in dark corners or under rocks, but in the light of day.
You have been put on notice.