Among the Messy Marvin ads, I found this cup: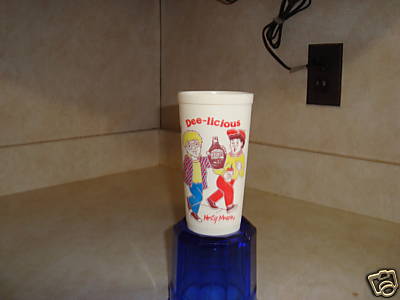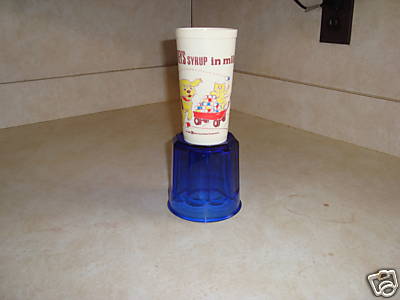 Perhaps the Messy Marvin cup brings back memories for you. Heaven knows I was too mature to drink from a Messy Marvin cup (but wapatui from a dorm garbage can was fine). I do remember the print ads and commercials; they were everywhere.
Hi, my name's Messy Marvin.

I got that name because no matter how hard I tried, my room and my clothes were always messy. But then one day, Mom brought home thick, rich, yummy Hershey's Syrup in the no mess squeeze bottle. And before I knew it, I was making the best chocolate milk I'd ever had. But I wasn't making a mess. It's fun, too. I just pull the cap and squeeze. Nothing drips, nothing spills.

Now Mom's happy and so am I.

My room and my clothes are still a mess, but at least there's hope.
Look for a quick shot of a very young Tracey Gold in the second commercial in this video collection:
This ad campaign pretty much rendered any kid — even a 'college kid' — a Messy Marvin to anyone older; thanks, Hershey's.
And yes, the child actor who played Messy Marvin was the same kid who played Ralphie in A Christmas Story — Peter Billingsley. Which makes the Ovaltine decoder ring storyline ironic.
Apparently Billingsley too felt some disappointment with the ring; it's not one of the film's props that he saved. According to SFGate's The Poop interview, Billingsley kept the BB gun, the bunny suit and the slate board.
I wonder if he kept any Messy Marvin mementos?