Normally the most interesting thing to me about vintage sheet music is the cover art; this is because I'm musically illiterate and can't use it for anything but decoration and/or parts for altered arts (honestly, the only way I am able to carry a tune is to buy sheet music *ba dum dum* ). But this weekend I bought hundreds of sheets of vintage sheet music & some of the most fascinating ones were those that had little to no artwork at all.
All of the pieces I'm showing you today were owned by one Sister M. Patricia, O.S.B. (Order of Saint Benedict), from Sacred Heart Convent, East Grand Forks, Minnesota. (Puzzling then, that at least The Naughty Little Clock Song sheet music would come all the way from Boston! Surely there was a cheaper option in the Twin Cities?)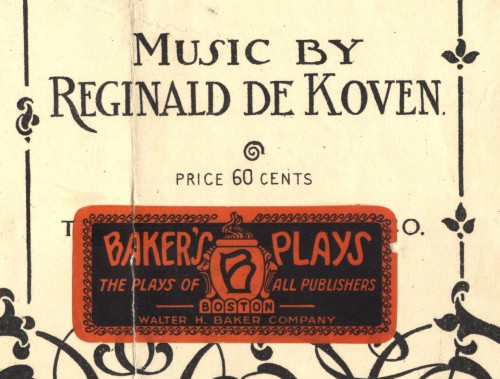 But anyway, Sister M. Patricia was a racist nun — and I can say that based on her musical habits.
First up, her copy of Japanese Love Song, copyright 1900, words by "Anon", music by Clayton Thomas aka Salome Thomas Cade aka Nellie Salome Thomas, and dedicated to Madame Alberto Randegger. Only Sister has crossed-out "Japanese" and replaced it with "Chinese" —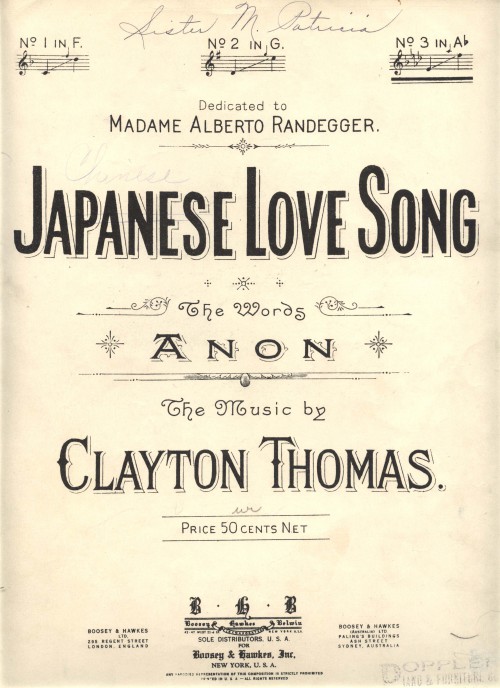 Because apparently one Asian is as good, or as heathen, as another. Hey, I'm not calling anyone a heathen! The original lyrics read:
She was a maid of Japan
He was the son of Choo Lee
She had a comb and a fan,
And he had two chests of tea.

She wore a gown picturesque,
While he had a wonderful queue,
Her features were not statuesque,
Which matter'd but little to Choo, to Choo,
Which matter'd but little to Choo.

He smiled at her over the way,
She coquetted at him with her fan;
"I mally you,–see?" we would say
To this queer little maid of Japan.

And day after day she would pose
To attract him, her little Choo Lee,
All daintily tipp'd on her toes,
This love of a heathen Chi-nee, Chi-nee
This love of a heathen Chi-nee.

But Fate was unkind to them, quite,
For he never could reach her, you see,
Though she always was there in his sight,
And she look'd all the day on Choo Lee;

For a man mayn't do more than he can,
Tho' a maiden may languishing be,
When she is a maid on a fan,
And he's on a package of tea, of tea,
And he's on a package of tea, ah!
Her revisions also include changing lyrics in the newly created Chinese Love Song: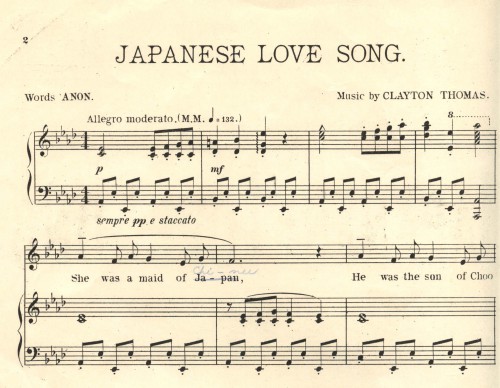 For continuity purposes, of course, "Japan" was changed to "Chi-nee". And Sister is nothing if not consistent in her racism, as we'll see in part two. (Yup, that's a tease to come back soon.)
PS This little song was performed at a The New York Times, August 31, 1902: